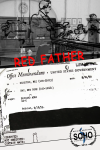 RED FATHER
Bernard Ades' life was marked by the events and political forces that rocked the world – events in which he actively participated – from struggling for civil rights at home to fighting fascism on the battlefields of Spain to losing his livelihood as the result of blacklisting.
In the early 1930's, as a young lawyer working for the International Labor Defense, Bernard Ades gained notice defending African Americans in capital cases on the Eastern Shore of Maryland. His most noted trial was the Euel Lee case, in which he fought the white Maryland judicial system compelling it to expand its jury panels to include African Americans. His civil rights advocacy was met with disbarment proceedings in which he was successfully defended by Thurgood Marshall, the future Supreme Court justice.
Narrating the story is his daughter Janet, a "red diaper baby", who grew up in a New York socialist enclave. She looks up to her father, admires his wisdom, his generosity and his world outlook as he goes through his trials and later tribulations. But while as a child she thought him larger than life, as an adult she questions his ideology, its implementation and her father's Communist involvement.
Additional Websites: https://www.facebook.com/aredfather