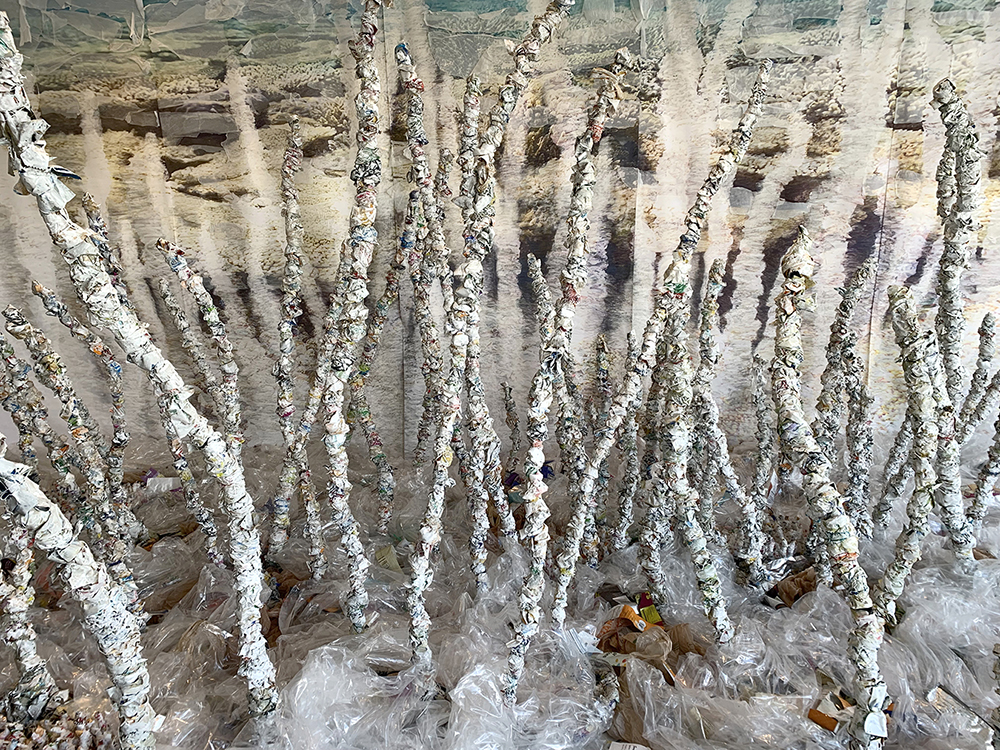 reefscollapse
I began "reefscollapse" in 2018. The large-scale installation was completed in 2022 for my exhibition at Ignition Project Space in Chicago, October 1-29, 2022. The work addresses the catastrophe of the bleaching and collapse of the coral reefs due to climate change. The site-responsive installation consists of a sculptural element and a two-dimensional "backdrop" that hangs behind the sculpture. Sound artist Bill Milosz created a soundscape which he started making with the sounds of a dying reef. This played while the exhibit was on view.
The sculptural part of the installation is made from everyday plastic packaging materials used for processed foods that normally end up in landfills or in rivers and oceans. The extraction of the petroleum used to make these plastics and their disposal are contributing factors to the warming oceans and death of the reefs. I wrapped the packaging around nine modular steel armatures. Torn packaging waste and repurposed plastic bags cover the base of the sculpture.
For the backdrop, which hangs behind the sculpture, I created an image in Photoshop which represents the ghosted image of imagined reef forms that are no longer living and existed only in the past. I had the image printed on five muslin panels. I subsequently hung the backdrop in my studio and drew on top of the printout with pastels. The entire installation measures approximately 18 x 9 x 8 feet.
In addition to the opening reception, I was present at the gallery four of the five days that the gallery had hours. During that time I interacted with viewers and answered their questions about both the installation and what was happening with the coral reefs. My goal was to have viewers feel a personal responsibility in how their behaviors have an effect on the reefs, the earth's ecosystems and climate change.
I printed a small brochure which both documents the exhibition and provides information about why the coral reefs are threatened. The brochure was available to viewers during the show and at other exhibitions in which other works were included. "reefscollapse" will also be exhibited at a 3-person exhibition at the Evanston Art Center in March, 2023.
"reefscollapse" was realized by the help of two assistants, Kayla Nicole Cook and Smith Robertson. I am grateful also to Michael Perrott and Mia Capodilupo who assisted with the installation.