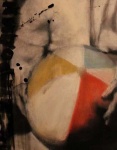 Repatriation and Deception
Repatriation and Deception: Post-World War II Soviet Armenia is the inaugural suite of paintings and drawings based on over two years of historical and ethnographic research, including personal interviews with survivors of the Great Repatriation to Soviet Armenia.
Antaramian-Hofman's new body of art is in response to the stories and photographs that she collected during her visits with Armenian repatriates who left such Diasporan countries as France, Egypt, Lebanon, Palestine, and the United States to "return" to an unknown Armenian homeland soon after the end of World War II.
As the first collection in a series of her works-in-progress, her art speaks to the paradox of historical circumstance and re-occurrence, where she constructs and deconstructs the cultural consequences of migration and the displacement of people over time. The template for her mixed media paintings includes the artistic paradigm of poster art and iconic cultural images, and archival documents as the selected testimony of socio-political ideology.
Her drawings reveal segmented aspects of the repatriate "body," in particular, children of genocide victims and their Diaspora-born children, all successively fragmented by politics, social issues, and sentimentality.