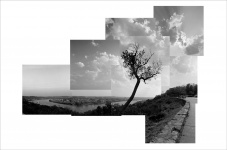 Retracing Audubon: Contemporary Landscapes
Inspired by John James Audubon's widely collected and revered publication Episodes and Biographies and his pre-civil war writings, photographer Krista Elrick reexamines his epic journey. Her landscapes highlight the significant environmental changes that have occurred in the United States in the two hundred years since Audubon's documented travels and elegant illustrations.
With Audubon's writings as her guide, Elrick photographed the same Mississippi River Basin and Eastern seashores where he hunted, wrote, observed and painted birds. Her black and white photographs capture Audubon's home at Mill Grove and the secret rock where he and his wife Lucy cemented their lifelong love and partnership. From the bluffs of Cincinnati, her photo collage express the hope and doubt Audubon's journals evidence, when he began his historic travels floating down the Ohio and Mississippi rivers to New Orleans in 1820. Photographing along the Natchez Trace Trail, Elrick's contemporary images contrast the growth of forests with the cotton fields of Audubon's five hundred mile walk home to Henderson, Kentucky. In recent travels near Three Buttes of Montana, Elrick photographs cattle and natural gas rigs where Audubon camped to hunt bison and bear. Such are the unexpected and ironic changes that have occurred in the landscape he so lovingly described and depicted long ago.
RETRACING AUDUBON: CONTEMPORARY LANDSCAPES premiers at John James Audubon Museum in Henderson, Kentucky (September 5 – October 20, 2013), then will tour to various museums throughout the country. Funding has been made possible by the Puffin Foundation and USA Projects.
Additional Websites: http://www.usaprojects.org/project/episodes_and_interesting_unknowns_with_audubon