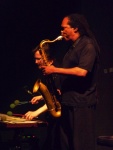 revealFREEDOM
"It has been quite an eye opening journey for me to meet Yuri Kochiyama and to talk with her about her life and her beliefs. I find her sensitive, courageous,
intelligent, empathetic and inspirational."
Claudine Naganuma, choreographer
revealFREEDOM is an important work inspired by civil rights icon and Oakland resident Yuri Kochiyama,. Her words were recorded through interviews conducted from December of 2010 through May of 2011. Yuri Kochiyama's stories were then woven
into an evocative score by Joel Davel and was performed live on the Marimba Lumina along sdie saxophonist Richard Howell.
Projection of historical facts served as a backdrop on the scrim. Dale MacDonald's lighting design delineated a provocative stage space in the political prisoners section while a list of freedom fighters could be seen behind the dancers.
The revealFREEDOM ensemble was made up of multi-racial dancers ranging in age from eight to forty-eight. As a minority, I always find it empowering to see people of color on stage. I think this project offered that opportunity to see Asians and Blacks and mixed race children on stage together.
The entire work and the passion of the quest to represent this icon opened all of our eyes; mine, the cast, our audiences. It gave people an opportunity to dance about race, privilege narrow mindedness and freedom.
Members of the community have told me that after seeing the work, they have been inspired to read more about Yuri Kochiyama and Malcolm X. Kochiyama herself who just turned 90 was able to attend a private performance with her family.
This work was performed as part of dNaga's 10th anniversary season.
Additional Websites: http://absolutedeviation.com