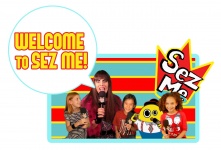 SEZ ME (2014)
At SEZ ME we create high quality media content for children and adults to illustrate gender fluidity, non-traditional family structure and social change in an affirming, uplifting way. SEZ ME celebrates diversity in a BIG way! We mix animation, songs, bright colors, cartoon characters, charismatic drag queens, endearing children, and queer camp to make skits, commentary and educational "sezments". We applaud empathy, sympathy, curiosity and self-determination.
Our content is a fresh, bold resource for LGBTQ families, parents of gender non-conforming children, educators, professionals and most importantly young people of all stripes.
We are a collective of LGBTQ artists and do this work as a labor of love.
Our simple motto comes from the SEZ ME theme song, "There are so many ways to be. There are so many you's and me's. There are so many ways to be, Sez who? SEZ ME!