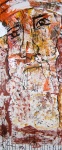 Shalom/Salaam: A Story of a Mystical Fraternity (2004)
Shalom/Salaam: The Story of a Mystical Fraternity is an interdisciplinary project which highlights the Sufi influence on the development of Jewish mysticism, following this unfamiliar tale from 10th century through the Kabbalah and into the Baal Shem Tov's Hasidism in the 18th century. Based in my own original research, Shalom/Salaam is a unique mixture of art, writing, scholarship and activism.
Shalom/Salaam is comprised of three different series of artworks, each concentrating on a different aspect of the tale. Paintings from the Baal Shem Tov explores the ecstatic mysticism of the 18th century Jewish mystic, the Baal Shem Tov, who was strongly influenced by Sufi threads buried within medieval Jewish spiritual thought. Secret Garden is a wall-borne installation that explores the subtle and beautiful Sufi mystical path of Islam. Lastly, a series of iconic portraits of individual medieval Jewish and Muslim mystics that linked these two religions at their spiritual cores, exhibits how this story was created by real people, sharing insights and respect across cultural and religious boundaries over nearly a millennia.
In addition to the artwork on this subject, I have taught a course entitled Sufis and Hasids: Masters of Mysticism at the Jewish Study Center in Washington DC (2000, 2001). I have published and delivered numerous papers on the subject at such venues as al-Azhar University (Cairo, Egypt); Chief Rabbi of Turkey's office (Istanbul); Columbia University (NY); Middlebury College (VT); University of Calgary (Canada); Muslim Community Center (MD); Jewish-Islamic Dialogue Society (DC); Islamic Center of Western New York (Buffalo) and numerous other venues around the United States.
My 300-page academic study of this subject, Shalom/Salaam: The Story of a Mystical Fraternity, was published in both the United States and Turkey in 2010, and other articles on the subject have been published since that time.