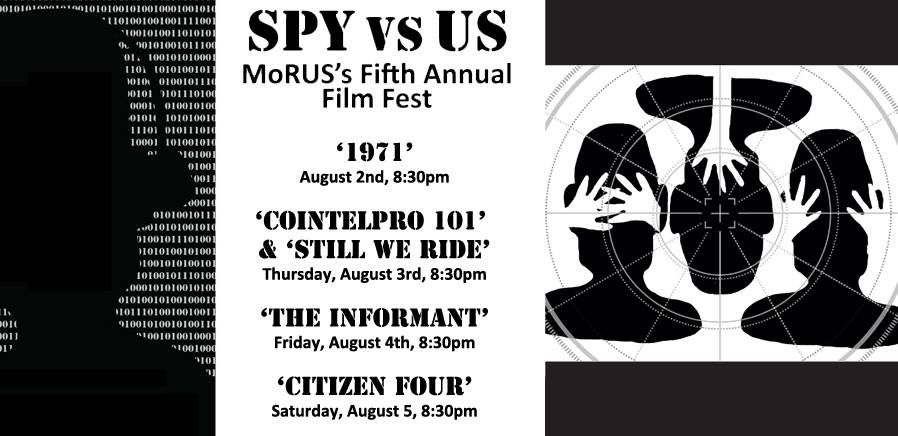 Spy Vs. Us: MoRUS 5th Annual Film Fest:
The Museum of Reclaimed Urban Space is a non-profit, volunteer-run history museum documenting the history of activism around community spaces in the Lower East Side neighborhood of New York City. The mission of MoRUS is to preserve the history of grassroots activism and promote environmentally-sound, community-based urban ecologies. MoRUS pursues three main goals:
– archive and document the history of activism in the Lower East Side, East Village and Alphabet City
– educate visitors with exhibitions and guided tours of the neighborhood
– empower individuals to partake in the process for sustainable change with workshops and events
The 5th Annual Film Fest: Spy Vs. Us focused on a range of techniques used to spy on and disrupt community groups, including environmental, civil rights, and anti-war organizations. Through featuring films on this subject, the festival raised awareness to the level of spying on organizations that range from small community groups to larger direct actions. Spy Vs. Us. also hosted introductions and Q&As with directors, filmmakers, and activists.
Screenings included:
1971 (2014) – Dir. Johanna Hamilton
The Informant (2011) – Dir. Jamie Meltzer
Cointelpro 101 (2010) – Freedom Archives
Still We Ride (2013) – Dir. Andrew Lynn, Elizabeth Press & Chris Ryan
Citizen Four (2014) – Dir. Laura Poitras