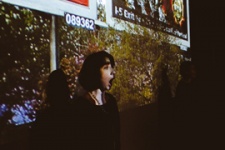 Suite Sandy Boulevard
Suite Sandy Boulevard, devised by Portland-based artist Lou Watson, is an experimental concert inspired by place and incorporating sound (including sopranos and a leaf blower) video projection and movement.
The work takes NE Sandy Boulevard in Portland, Oregon (specifically between 57th and 82nd Avenues) as its theme. Suite Sandy Boulevard features dances inspired by early morning leaf-blowers, operatic vocals (using billboards as lyrics) and guessing-games featuring iconic NE Sandy Boulevard storefronts. Combining music, video, statistical data, and dance, the performance is at turns humorous and thought-provoking.
"It is both a celebration and an investigation of human curiosity and how we can continuously find ways to experience joy and wonder (in even the most humdrum of circumstances)," says Watson.
The suite has eight movements and features an ensemble of four percussionists, three sopranos, three dancers, and one pianist/leaf-blower operator. The performance is conducted by Watson.
In 2015 Lou Watson was awarded the Kayla Skinner Special Recognition Prize, from Seattle Art Museum's Betty Bowen Committee for her work on Suite Sandy Boulevard.