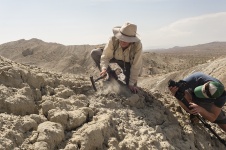 The Bearded Lady Project: Challenging the Face of Science
The Bearded Lady Project: Challenging the Face of Science's mission is twofold. First, to celebrate the inspirational and adventurous women who dedicate their lives in the search of clues to the history of life on earth.
Second, to educate the public on the inequities and prejudices that exist in the sciences, with special emphasis on paleontology. This project will integrate two creative mediums: filmmaking and photography.
The film portion of this project is a feature length live-action documentary. This story will follow a number of female paleontologists into the rugged locations of their field sites, allowing audiences to personally engage with these scientists, offering a uniquely interactive and inspirational experience. By portraying these women at work and highlighting the research they passionately conduct in remote locations, we can improve representation of female scientists and begin to alter the visual landscape in popular media.
The portraits are being created by Kelsey Vance with her large format camera and black and white film. The historical camera and process for making the portraits harkens back to the photographs of the male paleontologists that fill our history books.
The collaboration between film and photography offers two opportunities for audiences to interact with this project as well as a new and creative voice to initiate public discourse. Through the film, the audience will see women in action and recognize how rare it is to see them featured as scientists. Through the portraits, the audience is left to dwell on the still images before them, to evaluate their own preconceived notions regarding gender gender roles.
To directly impact the paleontological community, proceeds will be designated to a scholarship fund to encourage the next generation of female paleontologists to pursue field research.