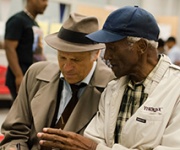 The Best Democracy Money Can Buy: An investigation of racially biased vote suppression and the funde
While the media is completely hypnotized and distracted by the current political circus, the Palast Investigations team has been digging deeply into the virtually unspoken issue that may, in the end, determine the outcome of our elections and the character of our nation: racial vote suppression.
In the past year, we have uncovered some of the most vicious and most sophisticated methods of voter suppression in on-the-ground and in-the-files investigation in Ohio, Alabama, North Carolina, Virginia, Georgia, Kansas, Illinois, Arizona and more.
We exposed the most insidious new tool of vote suppression, called "Crosscheck." The report, about the threat to voters of color in Georgia, North Carolina and beyond, won Al Jazeera America the highest international journalism honor, the Global Editors Award.
Our team has spent the last year digging deeper into Crosscheck. Crosscheck threatens nearly one million voters' registrations. It is the list-purging tool operated by Kansas Secretary of State Kris Kobach, the man who drafted Arizona's infamous SB 1070 "driving while Brown" law. Kobach remains of counsel to the Federation for American Immigration Reform which the Southern Poverty Law Center identifies as a nativist hate group.
Through no small research effort, we located the source of Kobach's funds for his massive vote purging and racial hate operation: the pockets of the Brothers Koch.
There are less familiar billionaires playing a dark hand, especially Paul Singer, whom I've tracked across the globe for 9 years for BBC, DN and the Guardian. Singer, known as "The Vulture," is now the top donor to Karl Rove's American Crossroads operation. Rove's Crossroads is the font of vote suppressing techniques both legal (voter ID requirements) and illegal ("caging"). Singer, you may remember, was the target of my cover story for The Nation: his vulture attack on the US auto industry which cost Ohio 35,000 union jobs. We are staying on this story as well