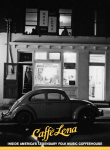 The Caffè Lena History Project
Caffè Lena in Saratoga Springs, New York is America's oldest continually operating folk music coffeehouse. Started by Lena Spencer in 1960, the Caffè provided seminal venues for such influential artists as Bob Dylan, Dr. Bernice Johnson Reagan, Arlo Guthrie and Don McLean. It possesses an extraordinary history of innovation, multi-generational communication, and support for musical expression that merges art, culture, and social action.
2006 and 2008 grant funding from the Puffin Foundation made possible the early work of the Caffè Lena History Project, a special initiative to document and preserve Caffè Lena's rich musical legacy. This included the creation of the Caffè Lena History Project website with an oral history questionnaire, and initial work on the Caffè Lena Oral History Project. The great boon of these project achievements enabled Caffè Lena to receive further support from the GRAMMY Foundation and the New York Council for the Humanities to uncover and archive rare folk music memorabilia and build a notable collection of material.
A 2012 grant from the Puffin Foundation enabled completion of the final phase of the Caffè Lena History Project website. The permanent Caffè Lena Collection at the Library of Congress and the Caffè Lena book/CD and educational website will be of enormous benefit to musicians, music lovers and historians of American culture for years to come.
Additional Websites: http://www.caffelena.org