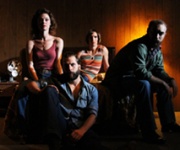 The Essential Straight & Narrow
The latest from the Drama Desk-nominated The Mad Ones: a lo-fi ode to the Kodachrome 1970s, rock and roll antics, and the mystical American Southwest: The Essential Straight & Narrow recalls a roadside layover in Pinos Altos, New Mexico, where passing the time becomes reliving the past. Between original country rock songs, bouts of $10,000 Pyramid, and late night craft time, The Mad Ones turn out an intimate anthem about regret and reinvention.
Created by The Mad Ones in collaboration with the ensemble, Directed by Lila Neugebauer, Set Design by Laura Jellinek, Costume Design by Asta Hostetter, Lighting Design by Mike Inwood, Sound Design by Stowe Nelson, Music Direction by Michael Dalto
Featuring Marc Bovino, Joe Curnutte, Michael Dalto & Stephanie Thompson, with Clare Barron, Jonathan Bock, Blake DeLong, Maya Lawson, Matthew Summersgill, & Merlin Whitehawk
The Essential Straight & Narrow is supported by the New York State Council on the Arts with the support of Governor Andrew Cuomo and the New York State Legislature and the Puffin Foundation. The Essential Straight & Narrow was developed through the Lower Manhattan Cultural Council Process Space Residency, a SPACE on Ryder residency, and the Archive Alliance.