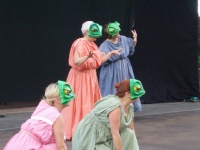 The Frogs
In collaboration with the National Museum of Wildlife Art (which was celebrating its 25th anniversary), Riot Act, Inc. (celebrating its 10th anniversary) presented a free outdoor production of the Greek play The Frogs by Aristophanes in the summer of 2012. This project provided free entertainment to the public, draws attention to the museum, and provides wonderful collaboration between artists. Free outdoor theatre is rarely performed in our area. Traditional Greek theatre has never been performed here. We will also incorporate masks created by a local visual artist and original costumes. This was a great collaboration between performance and visual arts.
The play was performed several times during the summer around sunset as a free event in the museum's new amphitheater. Local artist, Evie Lewis, created our beautiful masks used in the performances. Macey Mott and Christina Croxell worked to design and build our costumes. Many of our props were created from scratch.
The play provided a fun free evening of theatre for the Jackson area. Audience was able to enjoy the wonderful Jackson Hole surroundings while watching the traditional Greek comedy.
This proved a wonderful collaboration between Riot Act, Inc. and the museum. Theatre goers were introduced to the museum and vice versa.
Additional Websites: http://www.wildlifeart.org/