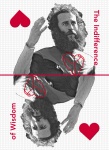 The Indifference of Wisdom
From June 14-July 12, 2013, NURTUREart presented The Indifference of Wisdom, curated by Project Curate and Julian A. Jimarez Howard, featuring artists: Clem Chen, Ernest Concepcion, Caroline Falby, Annette Rusin, Sarah Wang, Paul Wiersbinski, and Matthew Silver.
The Indifference of Wisdom questions our social norms by looking for works that embody transgression. Identity, gender and authority roles, hygiene rituals, factory-produced poultry… Have you ever asked why we behave in certain ways? Where did these habits start or come from? We all seem to follow a pattern everyone is afraid to divert from. Normal is good.
While discussing our theme, we chose transgression because of its relevance in our everyday lives, as we walk about the city or engage with each other, we all seem to follow a pattern everyone is afraid to divert from. This patterns could be as small as not making eye contact with a stranger in an elevator or saying bless you when someone sneezes. Personification is what makes it realistic, putting it in context with our everyday life. The works we selected embody the transgressive resistance to the routine of normal is good. Instead, they urge us in favor of the indifferent wisdom that comes from being at peace with oneself.
Project Curate provides a class of advanced art students from Juan Morel Campos High School an opportunity to experience contemporary curatorial practices by working closely with a professional curator for the whole school year, culminating with an exhibition at NURTUREart Gallery. For last year's Project Curate, their mentor was Julian A. Jimarez Howard, Co-Owner and Director of OUTLET Fine Art and Co-Director of Associated Gallery. Project Curate is part of NURTUREart's Education Program, dedicated to nurturing and enriching the next generation with its unique arts programs that connect practicing professional artists and curators with students and teachers.