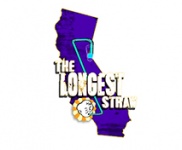 The Longest Straw
In the feature-length film The Longest Straw, director Samantha Bode spends sixty-five days backpacking the 338 mile path of the Los Angeles Aqueducts and Mono Extension. As she walked, she spoke with community leaders and residents of Los Angeles, the Owens Valley and Mono Basin to gain a deeper understanding of the effects of water importation on ecology, economy, and society, as well as the future of local water sources for Los Angeles.
The Longest Straw is a film which draws a connection between the water that supports a city and that water's source. California is currently suffering the worst drought the state has seen since record-keeping began over a century ago. Los Angeles is one of the top cities in America for water conservation, yet statewide outdoor watering restrictions and two declarations of drought emergency by Governor Brown go unnoticed by many Angelenos. Swimming pools are brimming, driveways are power washed, and automobiles sparkle in the Southern California sun.
The Longest Straw aims to heighten Angelenos' awareness that the water sources they draw from are shared by various communities throughout the state of California and beyond. By coming together under one water umbrella, we can stop playing the blame game and start playing the change game to ensure the future of reliable freshwater for all.
THE LONGEST STRAW IS CURRENTLY IN POST PRODUCTION AND WILL BE RELEASED EARLY 2017.
Additional Websites: https://www.youtube.com/c/longeststraw, https://www.facebook.com/thelongeststraw