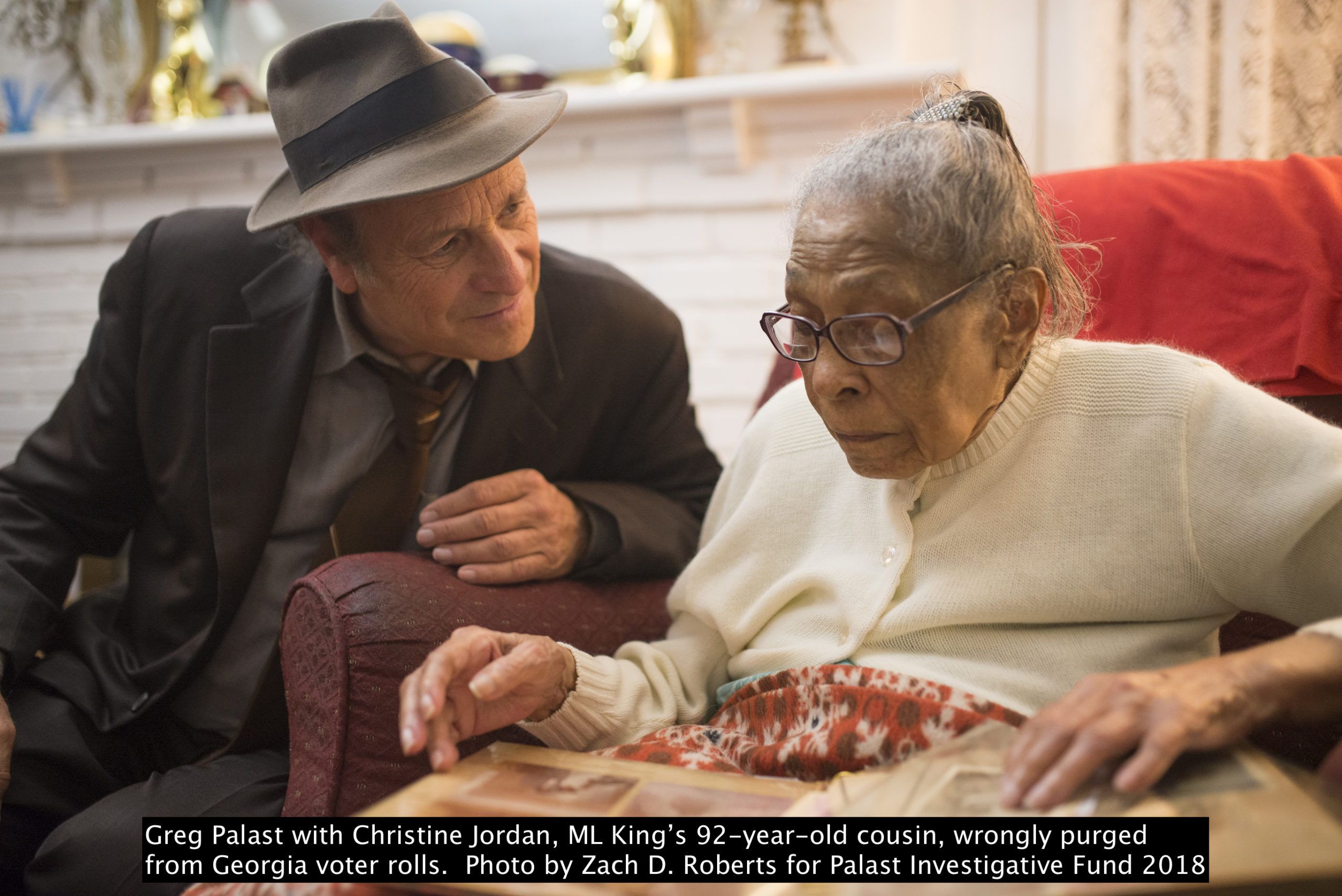 The Purge: Vanishing America's Minority Voters – Palast Investigative Fund
For two decades, investigative reporter Greg Palast and crew have uncovered racial vote suppression tactics beginning, in 2000, Florida's wrongful  purge of thousands of Black voters as "felons."
  Reports for The Guardian, Rolling Stone, Democracy Now, Nation and BBC-TV exposed racially poisonous tricks including "caging" and Kris Kobach's Interstate Crosscheck purge operation. The exposé caused Kobach's scam to collapse.
  In 2018, though sophisticated use of databases, we discovered that Georgia had purged 340,134 voters who supposedly moved including ML King's 92 year old cousin— but, in fact, had never moved—all captured on our cameras, seen worldwide.
  Georgia's purge tactics have spread to Ohio, Wisconsin and other states so that, by 2020, 17 million voters have been purged—millions erroneously.
   This year, for The Guardian, the Palast team, through legal action, film, undercover investigative techniques and old fashioned investigative reporting, is exposing, "Purge by Postcard."  A voter ends up on a "mover" list, or does not vote in a couple of elections and the state sends a postcard—looks like junk mail. Few (mostly older, white homeowners) send the card back.  The rest are purged from the rolls.  In Wisconsin, we just discovered that 165,000 voters will be wrongly purged for moving from their county including the County Supervisor of Milwaukee—not surprisingly, a Black woman.  We can stop it.
Puffin has made possible the investigations behind Palast's four NY Times bestsellers, including The Best Democracy Money Can Buy, now a documentary.
       Have a vote suppression story?  Contact us!