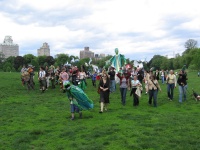 The Rights of Spring
Our annual 'Rights of Spring' is a giant puppet pageant aimed at both adults and children, and performed in Brooklyn each spring since 1994.
We have gradually evolved an unusual way of creating a performance. Rather than dictating a whole, our pageants are, like the city, assembled from the building blocks of different interests and styles. We create a framework into which we can fit audience participation, youth or school groups, seniors, and individual artists, either as puppeteers or with their own already-existing acts.
In this way each performance can be individually tailored to the participants, area and event; each performance gains energy by being created anew.
In 2011, when we were last supported by the Puffin Foundation, for example: The Rights of Spring, The Water Dragons: told the story of the water dragons who wake up, interact with various natural events, are overused and abused by humans, and revolt. The four performances were very different.
The performance at The Old Stone House, a well-known children's venue, included acts from PS 107 (Brooklyn Wild Things and Pigeons Who Save the Day), and the Red Hook Community Center (Water Dragons). At Coney Island, the part of Pigeons Who Save the Day was filled instead by the Sexcamaids. At the 78th Street Playspace in Queens, an ad hoc last-minute invitation, a small crew was fielded with one of each character group, and the day was saved by the audience. The performance at the Hudson River Pageant was necessarily short, and therefore included only Walt Whitman ( from John Farrell's "Walt Whitman: Time Traveler") as an outside character.
The use of puppets provides a unifying look for the individual parts, and it also makes it possible to make abstract ideas immediately visible. This makes it possible to treat of large political and social concepts in a way that is amusing and easily accessible, and can be enjoyed on many levels, from that of children to politically sophisticated adults.