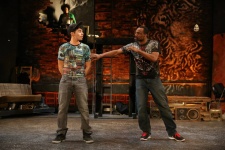 The Seven by Will Power, directed by Carl Cofield (2014)
The thesis production of Columbia University School of the Arts director Carl Cofield: THE SEVEN By Will Power.
In THE SEVEN, playwright/composer/old-school rapper Will Power (FETCH CLAY, MAKE MAN; FLOW) upends Aeschylus' ancient tragedy THE SEVEN AGAINST THEBES in a non-stop rush of rhymes that fuses Greek grandeur with 21st century hip-hop culture. Taking the best bits from both worlds – poetry and music, speech and song, DJs and deities – The Seven spins an unflagging fable about love, war, family, and the way we tell stories. Will Power has taken the tale of brawling brothers Eteocles and Polynices, the two sons of the cursed King Oedipus, and infused it with "heat-generating energy" (The New York Times) to explore such vital themes as race, poverty, and the abuse of power.
THE SEVEN
By Will Power
Directed by Carl Cofield
Cast:
Ryan Alvarado
Sean Carvajal*
Charnele Crick
Jamal Crowelle
Jillian Gottlieb*
Anthony Lee Medina*
Charles Murray*
Angela Polite*
Jacquelyn Revere
E Talley II
Pernell Walker*
Music Production/Additional Composition: Justin Ellington
Additional Composition: Will Hammond
Producer/General Manager: Erik Kaiko
Production Stage Manager: Jill Woodward
Dramaturg: Brittany Patch
Music Director: Ayumi Okada
Sound Designer: Eric Sluyter
Scenic Designers: Christopher & Justin Swader
Lighting Designer: Mary Ellen Stebbins
Costume Designer: Jen Hebner
Choreographer: Jaema Joy Green
Casting Director: Jenn Haltman
Casting Assistant: Amanda D'Aquila
Assistant Stage Manager: Kat Holland
Assistant Stage Manager: Zhenghao Zhang
Director of Production: Joe Novak
Production Manager: Tom Gilmore
Associate Production Manager: Corrie Beth Shotwell
Technical Director: Scott Mancha
Company Manager: Meghan Dixon
Equity Approved Showcase. *These Actors appeared courtesy of Actors' Equity Association.
THE SEVEN played the Connelly Theater in New York City from February 12 – February 15, 2014.
Additional Websites: https://www.facebook.com/events/506751389438194/?source=1, https://twitter.com/TheSeven2014