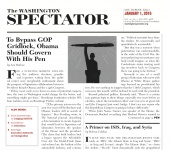 The Washington Spectator (2014)
With the steady erosion of print journalism, the increasing concentration of corporate-controlled news and information outlets, the prevalence of "infotainment," and the proliferation of un-sourced information on the web, there's a growing recognition of the need for trustworthy, independent reporting and commentary.
The Washington Spectator, now in its 40th year, is a leading progressive public affairs bulletin with a national circulation of approximately 45,000. Published monthly in print and daily online, The Spectator provides regular, independent, and in-depth journalism, investigative reporting, and progressive commentary written by leading journalists and political analysts. The Spectator is edited by Lou Dubose, the distinguished journalist, book author, and magazine editor, and published by Hamilton Fish, whose career in journalism and progressive publishing dates back to his stewardship of The Nation magazine in the 1980s.
Each month, The Spectator publishes a mix of lead feature and investigative articles, opinion pieces, and book and cultural reviews. The full content of each issue is also available online at washingtonspectator.org, where readers can find original contributions from an extensive stable of Spectator bloggers—writers and journalists who comment on areas of their specialized knowledge that surface in the news. Recent Spectator articles have focused on covert US intervention in Cuba, the illegal expansion of Canadian tar-sands oil pipelines, and the discriminatory history of the US Supreme Court.
At a time when traditional advertiser and newsstand-based publishing models are under siege and news content, advertising, and popular culture have merged onto a variety of digital platforms, The Spectator offers intriguing potential for growth as an undiluted source of independent reporting and commentary.
Additional Websites: http://publicconcernfoundation.org/