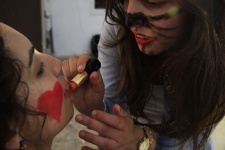 Through Others' Eyes
Through Others' Eyes is a dialogue and community-building project of Givat Haviva's Art Center. The program addresses the need for open channels of communication between Israeli Arab and Israeli Jewish youth (ages 16-17) who rarely, if ever, have an opportunity to meet one another. Through Others' Eyes uses photography as the lens to explore questions of identity and coexistence, and through the process of the project, coalesce the youth from a bi-national to uni-national group.
A group of twenty teens from Arab and Jewish towns in the Wadi Ara region met once a week at Givat Haviva and visited each other's homes and communities. During the sessions, they got to know and relate to one other through engagement in photography projects under the guidance of an Arab and a Jewish facilitator, who are also professional photographers. The art and dialogue components were organized around themes relevant to the lives of the youth such as family, culture, religious celebrations, and self and group identity. In the program, youth from different backgrounds shared personal and cultural histories and narratives to build a common group experience.
During the summer, the group travels to New York for three weeks to attend a Peace Camp at Hashomer Hatzair's Camp Shomria in the Catskill Mountains. At Camp, they participate in camp activities in addition to photography such as: visual arts, farming, dancing, drama, and hiking. The experience of communal living in a foreign and secluded natural setting, coupled with being distanced from Israel and influences of family and media, has a profound impact on the Israeli youth. As a result, they focus more on their similarities than differences, become more open to one another and are able to talk about different political and social issues. At the end of the summer, they solidify individual friendships and form a strong group identity.
For more information on Givat Haviva and our Programs, check out our website at www.givathaviv
Additional Websites: https://ghefthroughotherseyes.wordpress.com/