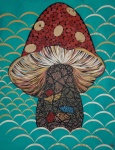 "Transmigration – Magic Mushroom World Series" Project
My artwork is made of hundreds of very small slices of oil-dyed (wood) chips on board. The variety of wood grain is very beautiful and the pattern is never the same. The combinations of natural grains create interesting shadows and impressions. Each piece is created with the care one would use writing a letter to a loved one or friend.When seen from a distance, my artwork looks like a painting. The details of the work and technique slowly emerge when viewer comes closer.
I make art that is natural, playful and lifts people's spirits. But I also want my artwork to be about myself, like a diary. Bright, fun, and unusual subjects attract and inspire me to work in new directions. Music, fashion, people, animal, food, tropical flowers, green trend. Mysterious creatures/objects, Illusions and Waves are recurring themes in my work.
My Project: Transmiglation – Magic Mushrooms World, a series from all over the world.
Mushroom spores are parasitic to dead-creatures or plants and grow mushroom. This is like a Transmigration or Reincarnation.
The shape, color, and fragility of mushroom is very mysterious. This mystery inspired me to start my Magic Mushroom project.
I hope my artworks travel all around the world like a spore !
Additional Websites: http://northwindarts.org/news/showcase-gallery/naoko-morisawa/, http://artisttrust.org/index.php/award-winners/artist-profile/naoko_morisawa