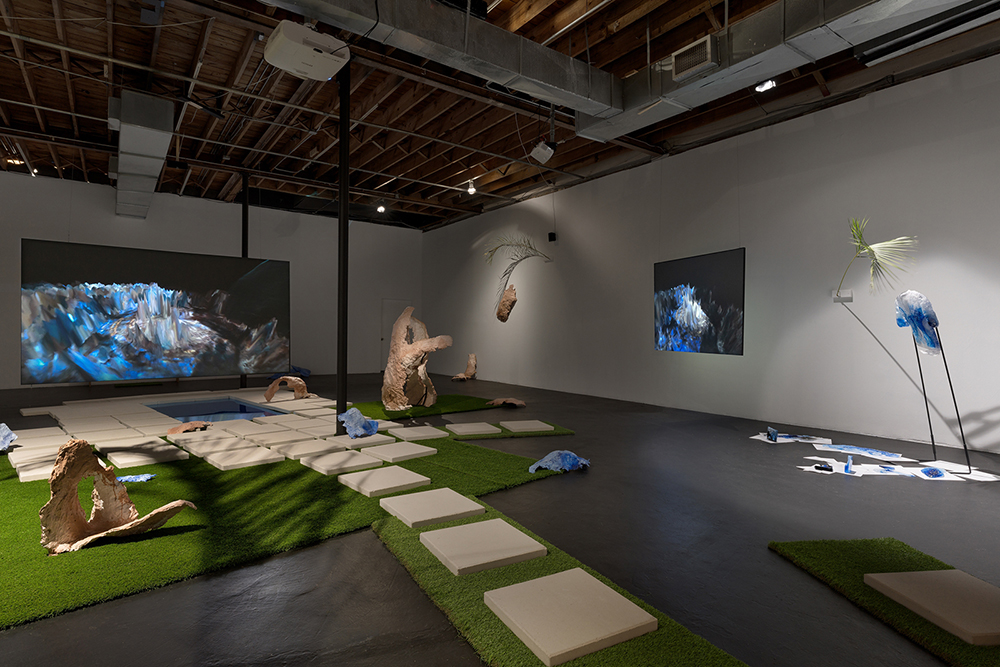 Treading on Thin Ice
Treading on Thin Ice contemplates human conditions under progressive catastrophes resulting from social issues and climate change. By employing the concept of landscape as traces of human history as a battleground and an extension of the human body, I present a post-landscape where nature, human activities, and materiality intersect. By utilizing body imagery as a receiver and reflector, I explore using our physical bodies as vehicles for reconstructing the events and environments to which we have directly or indirectly been exposed. The project integrates sculpture, video projections, and sound into a large site-specific installation.
In this installation, I presented a manmade natural environment to explore adaptation, the psychological space, and subtle changes in our everyday lives under the inevitable—our changing environment. Manipulating our senses of familiar and unfamiliar, the center of the exhibition is a backyard-like installation that situates my sculptures with concrete pavers and artificial grass, which are commonly used for patios in Florida. The main video is projected onto a large screen above a blue-mirrored plexiglas that symbolizes a backyard swimming pool.
With footage that includes natural and artificial landscapes, an interview at a genetic laboratory, a scene with actors and a scenic panorama captured on Mars, the video creates a cross-path dialogue exploring our existence and the connections among change, adaptation, hope, human behavior, and emotions. The sculptures are inspired by scholar's rocks, naturally occurring stones of various colors and abstract shapes that were famously admired by Chinese scholars during earlier centuries. These represent a micro landscape that allows for contemplating our current world. The sculptures appear deformed by outer forces and represent a combination of the human body, animals, and rock with no specific contoured reference.
This exhibition was commissioned by Locust Projects, and supported, in part, by the National Culture and Arts Foundation of Taiwan and The Puffin Foundation.
Special thanks to my collaborators who helped to make this project possible: An-Ru Chu, Cedrik Fermont, Kuo-Heng Huang, Dave Jackson, Manuel Molina Martagon, Christopher J. Staley, Chun-Li Wang, and Aung Moe Win.
Photograph by Zachary Balber