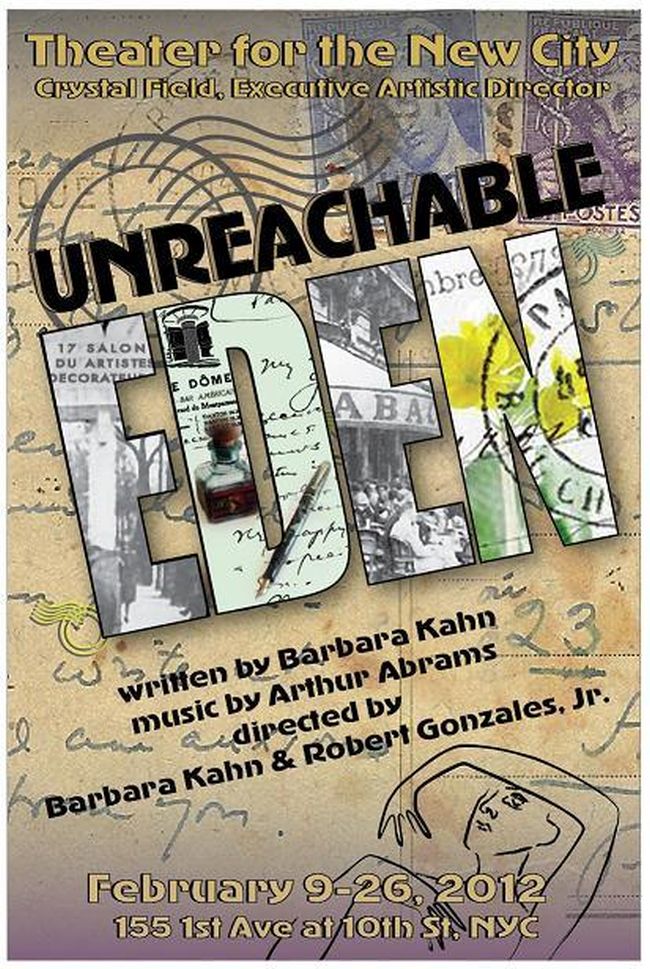 Unreachable Eden
Unreachable Eden is a stand alone sequel to The Spring and Fall of Eve Adams. The musical drama is about real life Polish Jewish lesbian Eve Adams (born Chava Zloczower), who ran a tearoom on Macdougal Street in Greenwich Village in 1926. Arthur Abrams composed a score to lyrics by Barbara Kahn inspired by the music of 1930's Europe, the events of the play and emotions of the characters. In her tearoom, Eve promoted the early work of local writers and held weekly poetry readings, musical performances and salons where sexual topics were openly discussed. During an atmosphere of anti-immigration, homophobia and anti-Semitism, Eve was entrapped by an undercover policewoman who charged that Eve made unwelcome advances ("disturbing the peace") and offered her a book of short stories she had written called Lesbian Love ("disseminating obscene literature"). Convicted and imprisoned for 18 months, Eve was deported back to Europe as an "undesirable alien." Throughout the 1930's she tried unsuccessfully to return to the U.S.
Unreachable Eden begins with the deportation hearings then shifts to Eve's life in France prior to World War II. When possible, the characters speak for themselves in the play.
"I request a chance to prove myself a worthy resident of this country and a citizen. I feel this is my home, I think in the language of this country. I love this country with my whole heart and soul." Eve's testimony 1927.
Eve was a bookseller in Paris, promoting the early careers of authors, including Henry Miller, D. H. Lawrence and James Joyce.
"… everything is dull in the book trade—frightfully dull. Kahane asked me to have confidence in him…Alors, wait a bit, he said. No use bringing out another book… It would spoil the sales of Tropic of Cancer. Eve Adams is still selling a few now and then." Henry Miller. Paris 1934.
While Eve was selling banned books to English-speaking tourists in Paris, the Nazi government was banning and burning books in Germany and implementing their war against Jews, homosexuals and others deemed "undesirable." These parallel worlds collided during World War II, putting Eve in triple jeopardy as a Jew, a lesbian and an immigrant.
"I want desperately to come back to the States .I must! I am all alone here." Letter to Ben Reitman in Chicago. Nice,France 1941.
Eve's first deportation in 1927 led ultimately to her second deportation, this time from Nice, France, to Auschwitz in her native Poland, where she was murdered on arrival.