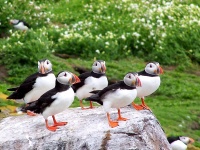 Vote Everywhere (2014)
Voting is a fundamental civil right for all people, and it is often the gateway to civic engagement for today's young adults. But voting and civic engagement are not inherent—they are behaviors and skills that must be taught and cultivated.
The Vote Everywhere program provides college students with a unique, non-partisan opportunity to learn organizational and leadership skills while they register their peers to vote, provide voter education, and lead on-campus issues activism and social justice projects.
Through partnerships with colleges and organizations, Vote Everywhere creates on-campus opportunities for engagement in the democratic process. The Andrew Goodman Foundation strategically selects Campus Champions—adults working with a civic engagement center on campus—who are then responsible for recruiting students to serve as Vote Everywhere Ambassadors.
These young social change agents serve for a one to three-year period and are given the training and support they need to lead social justice projects that improve, empower, and mobilize their local communities.
Most campuses have at least two Vote Everywhere Ambassadors who organize and civically motivate their peers by connecting them to related campus initiatives, hosting various events and panels, and mobilizing them around social justice projects and actions.
By participating in the program, students gain knowledge about the civil and voter rights movements, develop leadership skills by building teams and coalitions of support, and learn to communicate more effectively through writing, public speaking, and strategic use of social media. Vote Everywhere Ambassadors also become part of The Andrew Goodman Foundation's national network of peers, professionals, and social change agents.
Additional Websites: http://www.andrewgoodman.org/vote-everywhere/