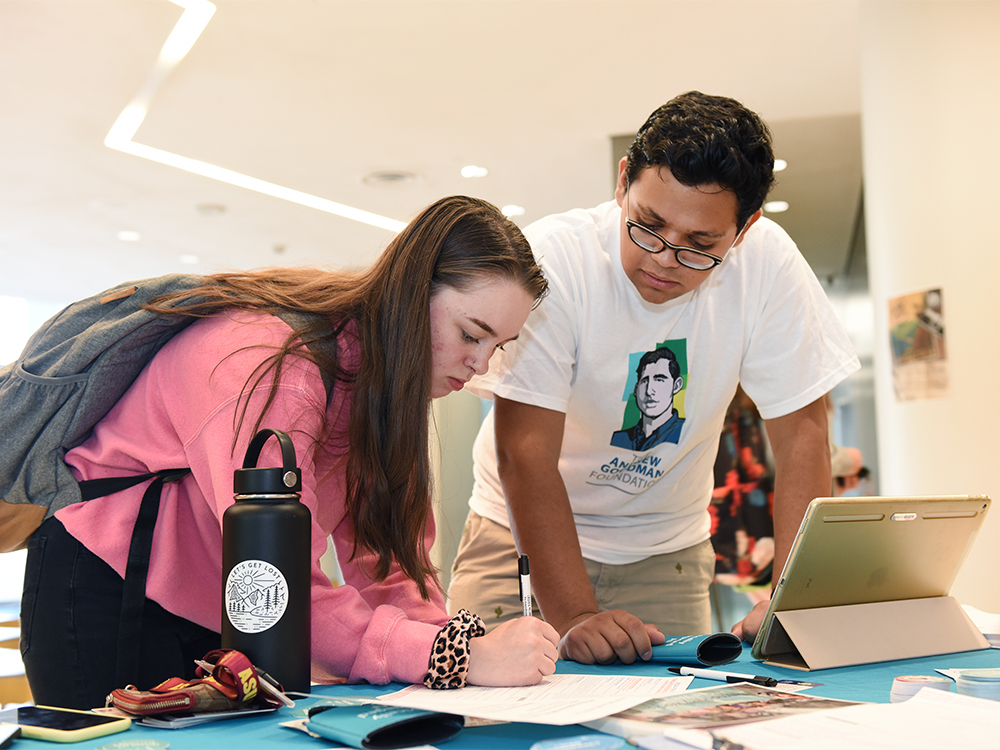 Vote Everywhere
Vote Everywhere, The Andrew Goodman Foundation's (AGF) signature program, is a national, locally-focused, non-partisan, civic engagement movement of student leaders and university partners. The program provides extensive training, resources, visibility, as well as a peer network to support its Ambassadors and Campuses while they register and turn out voters, bring down voting barriers, and tackle important social justice issues on their college campuses.
In 2018, AGF expanded the number of students we serve through geographic and digital growth. We added 8 additional campuses, which increased our potential reach to nearly 1 million students across 24 states and Washington, D.C. Additionally, in Fall 2018, AGF introduced new digital resources to empower our student leaders and extend their ability to reach students on their campuses, provide comprehensive voter information, and engage their peers as active citizens. This included the launch of AGF's one-stop student voting portal called my.VoteEverywhere, which is tailored for each of our campuses, as well as launched a pilot text messaging program. As a result, students who attend our partner institutions can now register to vote, check their voter registration status, find their polling site, request absentee ballots, obtain candidate information, and more from anywhere.
With the 2018 Midterm Election in focus, our Andrew Goodman Network laid the foundation for student voting accessibility and mobilized the student vote. Defending student political participation, Andrew Goodman Campus Teams institutionalized voter registration, facilitated dialogue and education about issues, advocated for the establishment of on-campus polling places, and otherwise coordinated shuttles or marches to polling places.