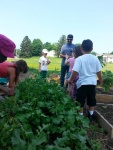 Wallkill River School of Art (2014)
We are a nonprofit 501©3 arts org. with a mission of preserving small farms and creating economic opportunities for local artists. We are located in Orange County, NY in a small village with a population of 5,000. Our school sits in the middle of Senior and low income (section 8) housing, and serves the underserved populations of Maybrook, Walden and Montgomery.
Puffin Foundation awarded us $975 for scholarships for Farm Camp for local children (free to low-income children) which teaches gardening, cooking and art classes. We have already raised $6,000, which together with the Puffin grant, was enough to offer 200 scholarships to local children. We are encouraging children to eat fresh vegetables, and gear their palates toward healthier foods rather than the prevalent fast foods.
Children learned environmental awareness, gardening basics, sampled fresh veggies right from the garden, and learned simple cooking methods like smoothies, salsa, salad and other no-cook methods. They also learned basic art making skills like painting, drawing, and imaginative play.
Many children didn't know that green beans grew on a bush (and didn't come from a can!) and one boy asked if he could take home the leftovers every day for his grandmother who would go hungry otherwise.
The Farm Camp garden also grew melons and vegetables that were used as snacks for the adult art classes, and as subjects in still life painting classes. We have found the garden to be a useful and functional addition to our small campus, and noticed that we also feed several neighbors, woodchucks and other wildlife!