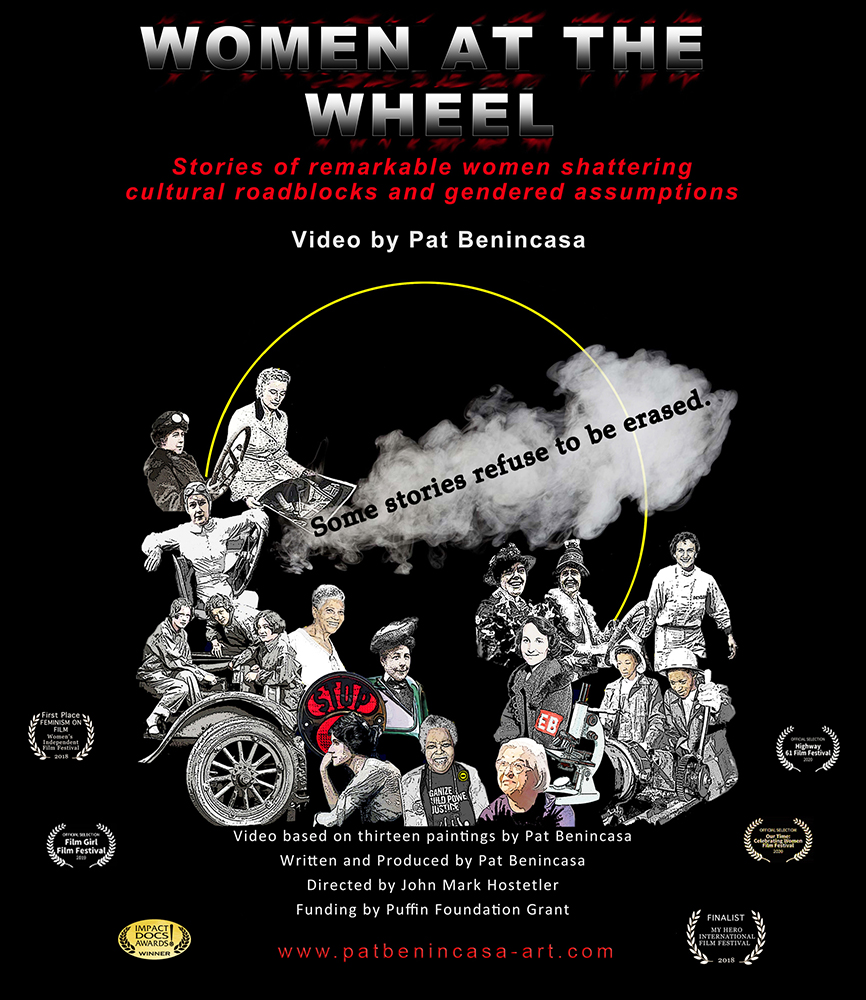 Women At The Wheel: Stories of remarkable women shattering cultural roadblocks and gendered assumptions
This series  of thirteen, 12″ x 12″ sheet metal paintings is of a woman or group of women with an authentic artifact from their time period. The series spans the history of the automobile from the 1900's to present day.
From inventing windshield wipers and brake lights to setting speed records in national/international racing events, or inventing Kevlar, or making interior design a key automotive component, these women created a mobility of possibilities that resulted in women's suffrage and opened doors to work opportunities beyond color and economic barriers.
WATW reconstructs a century-old narrative that all but relegated women to riding shotgun in the history of the automobile. Women made tremendous contributions to the techno-industrial landscape, and their stories restore a missing narrative in our collective memory.
Despite concentrated effort to erase contributions women have made, their voices prevail and their achievements must be properly attributed. These women defied  cultural restraints to make, do and be. Their stories are timeless because the truth of their lives is like an IOU: The payment of their achievements comes due with every woman who dares to make her own way in the world.
WATW was awarded First Place for Feminism on Film at the Women's Independent Film Festival- Fall 2018 Season-California, Finalist in MY HERO International Film Festival, Award Recognition 2019 in Impact DOCS International Film Awards Competition, 2019 FilmGirlFilm Festival and Official Selection in 2020 Highway 61 Film Festival