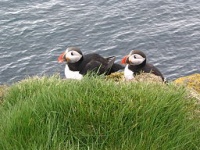 Ye Are Many-They Are Few
Ye Are Many—They Are Few is my passionate response to the apathy of current serious artists, not to mention the general public, to the great issues of injustice facing the world. Artists of the past—Mozart, Picasso, Benjamin Britten—have contributed great works that had a profound effect on the injustices of their day. It is clear that because today's artists have turned their backs on the crucial problems facing mankind they have contributed to the erroneous impression that the arts are irrelevant to contemporary life. My piece, which runs about 15 minutes, is composed for Soprano, Alto, Tenor, and Bass-Baritone, who doubles as the orator in the spoken-word sections. The text uses statements by William Butler Yeats, Frederick Douglas, Howard Zinn, Dorothy Parker, Geroge Bernard Shaw, William Jennings Bryan, and Percy Bysshe Shelley, with my own commentary weaving these thoughts together in a compelling dramatic narrative. The heart of the text is comprised of selected stanzas from Shelley's The Mask of Anarchy, and my piece takes its title from the last line of his poem. For Shelley, anarchy meant tyranny in which the few control society for their own selfish purposes. In fact, the poem advocates for nonviolent protest, which I amplify in my own contribution to the text by stating, "We will prevail because truth and integrity are our weapons." Although the work is timely, the themes discussed are both timeless and universal, so the composition can live well beyond present-day concerns. In fact, all the selected writings are neither time- nor place-specific, enabling audiences anywhere in the world to relate to the ideas expressed.
Although I have a tentative commitment by a new-music ensemble in Chicago to perform the work, I am currently trying to raise additional funds beyond the initial grant to get the work performed in as many places as possible. It should be heard not only in traditional concert settings, but also in conjunction with apt political events.