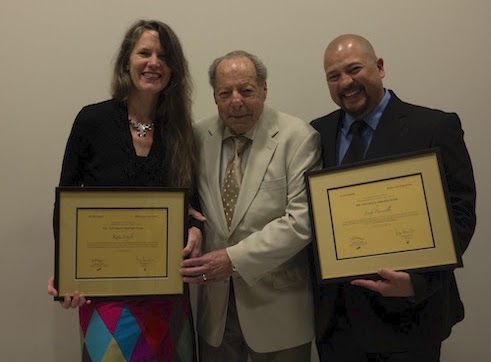 2012 Peccerelli & Doyle
ALBA/Puffin Award for Human Rights Activism
Para más información en español sobre el Premio ALBA/Puffin al Activismo en pro de los Derechos Humanos de este año, pinche aquí.
Kate Doyle and the National Security Archive
For two decades, Kate Doyle has worked to shed light on the history of state violence and repression in the Americas. Through her research at the National Security Archive, she has obtained the disclosure of thousands of U.S. and Latin American government records from secret archives for human rights investigators, truth commissions, prosecutors and judges. She has testified as an expert witness in human rights hearings, including the 2008 trial of Peru's former President Alberto Fujimori that ended in his conviction for crimes against humanity; the Guatemalan genocide case and the case of the 1989 assassination of the Jesuits in El Salvador, both before Spain's National Court; the 2010 trial of Guatemalan police officials for the disappearance of labor activist Edgar Fernando García in 1984; and multiple hearings before the Inter-American Human Rights Commission on the "death squad dossier," charging the Guatemalan government with the abduction and disappearance of dozens of citizens in the mid-1980s.
Ms. Doyle has edited two of the National Security Archive's collections of declassified records – Death Squads, Guerrilla War, Covert Operations, and Genocide: Guatemala and the United States, 1954-1999 and El Salvador: War, Peace and Human Rights, 1980-1994. Doyle also works with citizens groups throughout the Americas on their campaigns for government transparency, accountability and freedom of information, and has written about the right to information in Latin America and the United States. Recently her work was featured in the award-winning documentary Granito, by Pamela Yates and Paco de Onís, which narrates her involvement in the effort to indict former Guatemalan dictator Efraín Ríos Montt for crimes against humanity.
The National Security Archive (http://www.gwu.edu/~nsarchiv/) was founded in 1985 by journalists and scholars to check rising government secrecy. It combines a unique range of functions: investigative journalism center, research institute on international affairs, library and archive of declassified U.S. documents, leading non-profit user of the U.S. Freedom of Information Act, public interest law firm defending and expanding public access to government information, global advocate of open government, and indexer and publisher of former secrets. The Archive is housed at George Washington University.
Fredy Peccerelli and the Guatemalan Forensic Anthropology Foundation
A courageous and innovative forensic anthropologist, Fredy Peccerelli has made crucial contributions to the first-ever conviction of Guatemalan military forces for crimes against humanity. As founding director of the Guatemalan Forensic Anthropology Foundation (FAFG), Peccerelli leads a team that, over the past twenty years, has exhumed hundreds of mass graves of victims from Guatemala's Internal Conflict.
Using cutting-edge scientific tools, he has been able to identify victims of the Guatemalan genocide, gathering evidence for use in court and also providing closure to family members. Peccerelli has also created a national DNA database for the identification of victims of forced disappearance. When Fredy was nine, his own family was forced to flee Guatemala for the Bronx, after his father received death threats.
In 1999 Peccerelli was named by Time Magazine and CNN as one of the fifty Latin American Leaders for the New Millennium.In 2006 he was the recipient of the Washington Office on Latin America (WOLA)'s Human Rights Award and in 2008 he received the Heinz R. Pagels Human Rights of Scientists Award from the New York Academy of Sciences for his work. Like Kate Doyle, Peccerelli's work was also featured in the award-winning documentary Granito, by Pamela Yates and Paco de Onís, which narrates his involvement as a forensic expert in the efforts to seek justice for crimes against humanity.
The Guatemalan Forensic Anthropology Foundation (www.fafg.org) is an autonomous, non-profit, technical and scientific NGO. Its aim is to strengthen the Guatemalan justice system and respect for human rights by gathering evidence, investigating, documenting, and raising awareness about past instances of human rights violations, particularly massacres and extrajudicial killings that occurred during Guatemala's 36- year-long Internal Armed Conflict. Its main tools in pursuing this goal are the application of forensic anthropology, forensic archaeology and forensic genetic (DNA) techniques in exhumations of clandestine mass graves and the analysis of the remains of victims from the Internal Conflict.