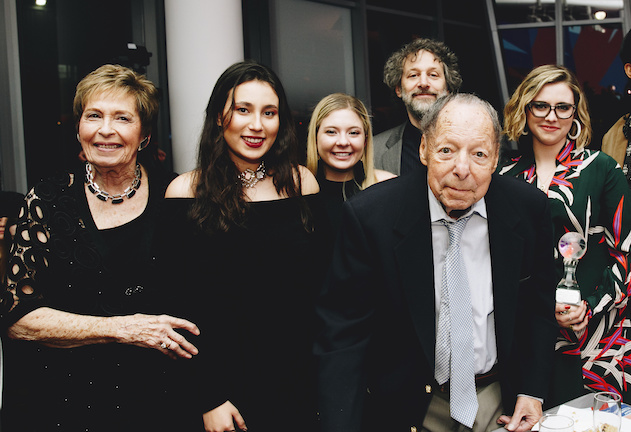 2018 The Parkland Student Activists
The Parkland Student Activists are the winners of the 2018 Puffin Prize for Creative Citizenship in partnership with Type Media Center (formerly the Nation Institute).
The Students, in partnership with young activists across the country, founded the March for Our Lives to end gun violence and challenge the complacency of lawmakers. March organizers David Hogg, Jaclyn Corin, Delaney Tarr, and Ramon Contreras will accept the prize at The Nation Institute's Gala Dinner on Dec. 11 in New York City.
"March For Our Lives is incredibly grateful that our work to engage young people nationwide is being recognized by the Nation Institute," said Jaclyn Corin. "We stand alongside millions of students around the nation in the fight to end gun violence in all communities, continuously challenging elected officials to fight for the safety of their constituents.
Just days after the tragedy at their high school, Marjory Stoneman Douglas students began publicly calling for meaningful gun control reform and meeting with politicians to challenge them to act. The students' message was clear: we cannot allow one more person to be killed by senseless gun violence.
Millions of people, inspired by the students' call to action, rallied together on March 24th for the March for Our Lives. In one the largest demonstrations in American history, in Washington, D.C. and at more than 800 sibling events around the world, protesters called for policy changes like mandating universal background checks, closing the gun show loophole, and prohibiting high-capacity magazines.
After the march, and after many of the students graduated, they pressed on for reform. The activists helped push Florida legislators to pass a school safety bill in the face of vehement opposition from the National Rifle Association, urged boycotts of companies supporting the NRA, and organized school walkouts.
This past summer, the students went on a national bus tour, visiting more than 80 communities in 24 different states in 60 days — some of them NRA strongholds, others communities affected by gun violence. They focused on educating young people, registering them to vote, and encouraging them to make it to the polls.
The Puffin Prize for Creative Citizenship is a $100,000 prize that honors individuals that challenge the status quo through distinctive, courageous, imaginative, and socially responsible work of significance. It is intended to encourage the recipients to continue their work, and to inspire others to challenge the prevailing orthodoxies they face in their own lives.
"The students of Marjory Stoneman Douglass accomplished something extraordinary," said Perry Rosenstein, President of the Puffin Foundation. "They helped pass meaningful reforms in their home state and changed the debate about gun violence nationwide in one of the most successful challenges to the gun lobby we've ever seen. But they also had the wisdom to realize that lasting change will only come with the engagement of their peers in this fight. Their mobilization of youth across the country to engage in the political process has been inspiring to us all. We at the Puffin Foundation share that commitment and salute their work."