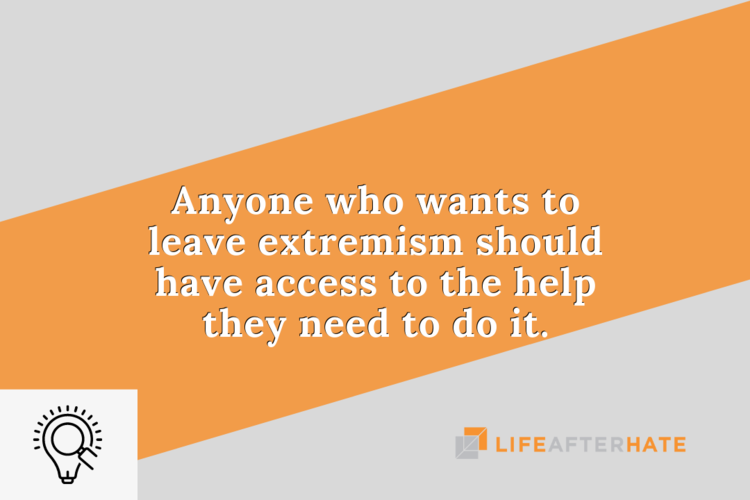 2022 Life After Hate
The ALBA/Puffin Award for Human Rights Activism was awarded to Life After Hate on April 30, 2022. The ceremony is held each year as a part of the Abraham Lincoln Brigade Archvive's annual gala. You can view the prize portion of the event starting at 45 minutes in to the program.
Remarks by Puffin Foundation President Neal Rosenstein
Presentation of the 2022 ALBA/Puffin Award for Human Rights Activism
Saturday, April 30 2022
Good afternoon. On behalf of Gladys & The Puffin Foundation and in remembrance of my father Perry, I'm pleased to be digitally presenting this year's ALBA/Puffin Award for Human Rights Activism. But first, I'd like to thank and recognize the important work of last year's awardee My Brother's Keeper, reminding us that health care is a human right and giving us the opportunity to learn more about and celebrate their life-affirming work.
I'd also be remiss to not first acknowledge the senseless and brutal war being waged by Russia. Putin has perverted the concept of anti-fascism to justify his pursuit of a new Russian empire. The war crimes and gross violations of Human Rights taking place weigh heavily on our hearts in Ukraine and must also serve to remind us of the suffering taking place in the many conflict zones across the world.
But now, I'd like to share a few brief thoughts about this year's honorees for the ALBA/PUFFIN Award for Human Rights Activism. As you know, this award recognizes and encourages individuals or groups whose efforts have a positive impact on the advancement and/or defense of human rights. And every year, the folks at ALBA and Puffin wrestle over who should receive it. This year, we felt it vital to address the increasing growth and threat that neo-fascists and white supremacists pose here at home, and we're honored to recognize the extraordinary work of Life After Hate.
Across the world and across the United States as well, citizens are bombarded with hate speech from politicians, media, and institutions with a message to despise and fear the other and to embrace our own racial, gender, ethnic, or religious superiority. That relentless barrage of hate makes it all the easier for leaders to wage wars, for politicians to legislate away basic human rights, and for our own neighbors to gravitate towards violence and hate groups.
But hatred can also clearly have a life of its own, it doesn't need a President or a Premier or any single individual to lead it. Here in the US, generations of racism, misogyny, anti-Semitism, and fear of the other have embedded itself in the lives and hearts of countless millions. It's taught to children and handed down generation by generation. A hatred spread by family, by friends, at the office water cooler or at the local bar. If we want to defeat it, we have to realize that extremism and prejudice are not only systemic in our institutions but are also present in our neighbors and as part of our national cultural landscape. And like a virus, such hate seems to always be waiting for conditions to grow and spread.
Look, we need to vote, we need to protest, we need to teach students about human rights and this country's often shameful history, we need to pass laws outlawing bigotry, hate speech and crimes of bias, but so much more is needed if we want to be successful. We also need to reach the individual hearts and minds of those who have embraced hate in our communities and find themselves in groups that offer a sense of belonging and purpose. That's where Life After Hate comes in and the work of the "Formers"/former members of hate groups who now seek to convince others to leave and see the world through different and empathetic eyes. I'll be honest, I don't think I'd do very well trying to convince a member of the Klan or a Neo-Nazi of the errors of their ways. My guess is that many of those watching now might not have the best success either.
But the "Formers" at Life After Hate have their own shared pasts and experiences to reach out and make connections that help enable that needed moral healing to take place and their work and message is desperately needed. Their programs and one on one mentoring help make the personal connections and create conditions of trust and support. Those relationships are key to helping individuals who may be questioning their ties, and seeking to escape, some of the most horrifying groups out there.
Their interventions show that it's possible to overcome this hate and have people reconnect with humanity and lead compassionate lives. And that's what this is all about, seeking to break that chain and restore hope and empathy one person at a time.
As we meet today in remembrance and recognition of the Vets who fought against fascism abroad, this year's award recognizes the growing tide of folks intent on violence and suppressing our rights and the rights of the marginalized here at home. We're fortunate to have the individuals who make up like Life After Hate working for our common future. I'm so pleased that we'll now get to see a short video to learn more about their work and then be joined by Life After Hates Co-founder Angela King, who will be accepting this year's ALBA/Puffin Award for Human Rights Activism.
---
Press Release, January 6, 2022
On the one-year anniversary of the horrific assault on our nation's capital, the Abraham Lincoln Brigade Archives (ALBA) announces today that the 2022 ALBA/Puffin Award for Human Rights Activism will go to Life After Hate (LAH). One of the largest monetary awards for human rights in the world, the ALBA/Puffin Award is a $100,000 cash prize granted annually by ALBA and the Puffin Foundation to honor the nearly 3,000 Americans who volunteered in the Spanish Civil War (1936-1939) to fight fascism under the banner of the Abraham Lincoln Brigade. The award ceremony will take place at a live online gala on Saturday, April 30, 2022.
Due to the alarming rise of fascism in America, as witnessed one year ago in Washington, ALBA and The Puffin Foundation renew their commitment to combating far-right extremism. LAH is an organization whose mission is helping people leave the violent far-right to connect with humanity and lead compassionate lives. Their vision is a world that allows people to change and contribute to a society without violence. The work of LAH will help ensure that the horrendous events of January 6 are never repeated.
"Life After Hate is honored to accept the ALBA/Puffin Award for Human Rights Activism from the Abraham Lincoln Brigade Archives. We are humbled to be selected for such a distinguished award. As the first nonprofit in the U.S. dedicated to helping individuals disengage from violent far-right hate groups and hateful online spaces, we also know that direct interventions, one person at a time, can produce substantial ripple effects including the prevention of hate crime and domestic terrorism. The anniversary of the January 6 insurrection painfully reminds us that Life After Hate's work is needed now more than ever before and ALBA's generous award will help us expand the scale and effectiveness of our program."

Dr. Pete Simi, Interim Director of LAH
Life After Hate is a leader in the violence intervention community and the first nonprofit in the U.S. dedicated to helping individuals disengage from violent far-right hate groups and hateful online spaces. Since its founding in 2011, LAH has expanded its services to include family members of individuals who are involved with or are disengaging from the violent far-right.
A central part of the LAH mission is their innovative approach to interventions. A multidisciplinary team model pairs former violent extremists and mental health practitioners to help individuals leave hate and violence frameworks and to set and manage their goals to restore their lives.
"The ferocious attack on democracy one year ago laid bare how deeply right-wing extremist groups have embedded in our country and our culture,. Life After Hate is one of the few organizations in the United States dedicated to dismantling networks of hate, white supremacy, and neo-Nazism – one person at a time. There couldn't be a better time for ALBA to recognize the tremendous work of Life After Hate to pull people out of violent extremism and back into humanity."

Kate Doyle, chair of ALBA's Human Rights Committee.
The ALBA/Puffin Award for Human Rights Activism is an initiative to sustain the legacy of the experiences, aspirations, and idealism of the Abraham Lincoln Brigade. It supports contemporary international activists and human rights causes. A philanthropist and visionary, the late Perry Rosenstein created and established an endowed fund for this award in 2010.
"The work and message of Life After Hate has never been more valuable and more needed. A daily diet of media-infused disinformation touted by self-absorbed politicians spewing far-right rhetoric has led to more and more Americans turning to violence and hate groups. The success of Life After Hate's outreach, research, and interventions shows that we can overcome this hate and have people reconnect with humanity and lead compassionate lives."

Neal Rosenstein, President of The Puffin Foundation