On the Murder of George Floyd, and the Need to End Racist Policies, Laws and Attitudes.  We Stand with the Protestors.
The brutal & systematic oppression of Black lives has existed throughout our country's history. Racism has been used, encouraged, and promoted to justify slavery and an economy that profits on cheap labor and pitting one group against another.  The murder of Black people at the hands of the police must end.  Reforms to policing must be made. But we must also commit to ending the institutional racism that pervades our society and the laws and policies of our nation.  We salute all those who have been protesting racial injustice and advocating for reforms across the country; we are the majority. The Puffin Foundation hopes our work will help to inform and support efforts to promote racial justice in these challenging times.
"In a racist society, it is not enough to be non-racist, we must be anti-racist." -Angela Davis
"Never doubt that a small group of thoughtful, committed citizens can change the world; indeed, it's the only thing that ever has." -Margaret Mead
---
ABOUT US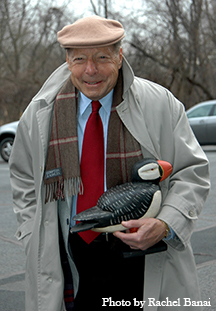 Share Your Thoughts of Perry
Perry Rosenstein, the founder and president of the Puffin Foundation, passed away on 4/3/20 from the COVID-19 virus. Our hearts go out to people all over the world who are struggling with this terrible pandemic. At this time, the physical doors of the Puffin Foundation, the Puffin Cultural Forum, and the Teaneck Creek Conservancy are closed, but our work will absolutely continue. And while Perry's death is a personal loss to the many people who loved him, his progressive values and the projects he supported will most certainly live on. When we are on the other side of this, we will gather together to celebrate Perry's life and legacy. In the meantime, we invite you to share your memories, stories, and reflections on this Facebook page, and to enjoy those shared by others. Perry Rosenstein: A Life and Times Memorial.
---
The Puffin Foundation Ltd. has sought to open the doors of artistic expression by providing grants to artists and art organizations who are often excluded from mainstream opportunities due to their race, gender, or social philosophy.
Why the Puffin?
The Puffin, once endangered in the northeastern United States, was returned to its native habitats through the efforts of a concerned citizenry. Our name is a metaphor for how we perceive our mission in the arts: to join with other concerned groups and individuals to ensure that the arts not merely survive, but flourish at all levels of our society.