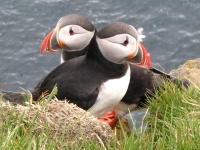 2016 Activism Gallery Lectures/Workshops
Puffin is proud to announce sponsorship of a diverse selection of courses, workshops, lectures and events exploring New York's proud activist history at the Museum of the City of New York. Topics include New York's leading role in Civil Rights, Women's Rights, Urban Environmental Protest, Art in Activism and more. Professional development for educators, P Credit and the 4th Annual Teaching Social Activism in the Classroom Conference are just some of the activities. The events are all held in conjunction with The Puffin Foundation Gallery for Social Activism at the Museum of the City of New York. See the flyer and PDF below for more info or click here to visit MCNY.
Sunday, May 20, 8:30am – 3:30pm
6th Annual Teaching Social Activism Conference
We look forward to welcoming you to the Museum of the City of New York for this exciting day made possible by The Puffin Foundation Ltd.
2018 Theme: Intersections
How can we support our students and ourselves, build understanding within and across class, race, and gender, and construct curricula that cross disciplines to spark novel insights? Join educators to address, celebrate, unpack, and encourage intersection in the classroom and beyond.
Schedule of the Day
8:00 – 9:00 a.m. Check-in
9:00 a.m. Opening Address: Intersections with poet Elizabeth Acevedo
10:10 – 11:00 a.m. Session I: Presentations and Gallery Activations
11:20 a.m. – 12:10 p.m. Session II: Presentations and Gallery Activations
12:10 – 1:10 p.m. Lunch
1:10 – 2:00 p.m. Session III: Presentations and Gallery Activations
2:20 – 3:10 p.m. Session IV: Presentations
3:10 – 3:30 p.m. Materials Distribution and Networking
Sessions are 50 minute long workshops and panels presented by educators, for educators. Gallery activations include curator- and educator-led tours and facilitated teach-ins.
See below for a full listing of all session workshops.
Highlights
28 Exciting interactive workshops, including:
Tools to Fight for Restorative Justice
Solidarity Beyond Borders: Transnational Resistance as Healing
Mapping Community Needs and Assets in NYC
#WokeTeachers: Teaching Intersectional Feminist Texts
Gender in Early Childhood Education
Bold Moves for Brave Spaces: Bystander Intervention Training
Activate, Create, Elevate: Arts and Media as a Catalyst for Social Change
Tell Me How: Creating Space and Spaces for Youth Agency
Sonata, Sonnet, & Social Justice
…and more!
Engaging tours and facilitated conversations in the Museum's exhibitions Activist New York, Beyond Suffrage: A Century of New York Women in Politics, King in New York, and New York at Its Core Giveaways for attendees including the just-published Activist New York book and a poster for your classroom
Lunch provided
Opportunities to network, listen, learn, and engage with hundreds of colleagues Information about the Museum's online materials, scholar essays, digital collections, and lesson plans
DOWNLOAD THE PDF