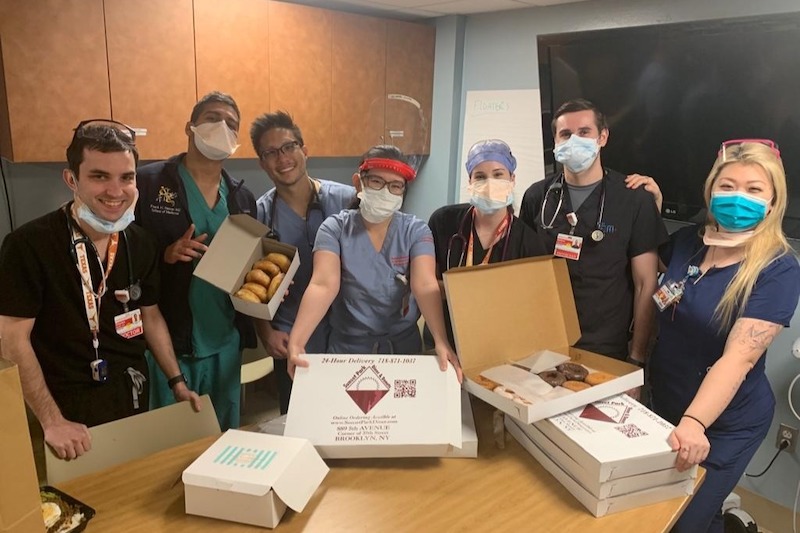 Meals for Brooklyn Health Care Heroes
April 15, 2020
In Brooklyn, NY, for providing hundreds of meals each day to hospital workers across the borough, ordered from a vast array of local restaurants, thus supporting local communities, workers, and critical care staff.
Visit their GoFundMe.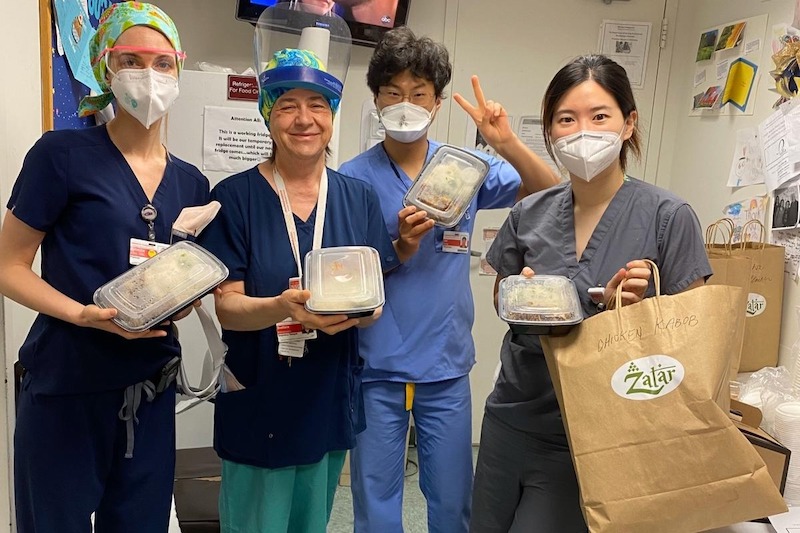 Update May 12, 2020 by Jessica Fields, Organizer
We are very long overdue with an update on our Meals Fundraiser. We have been delivering meals now for nearly 8 weeks and we've expanded our reach considerably. We've continued to deliver meals to Methodist hospital, but over the past few weeks we've sent meals to our healthcare heroes at Interfaith Hospital, EMS Station 31, Rutland Nursing Home, Kingsbrook Medical Center, and SUNY Downstate.
We are so thankful for our team who has worked so hard over the past couple of weeks to set up meals and coffee delivery. A special shout out to Lucy Pollack, Danielle Shapiro Lazarus, Elyse Anne Kakacek, Nicholas Papadakis and Soni Sangha for their tireless dedication.
We're running through the donations that we've received from our GoFundMe fundraiser, and are starting to pare down our operation as we see the hospitals start to normalize a bit. We are floored by some of our totals thus far, and we are so humbled by the community support.
Velvette Brew who has been delivering nightly coffee, has provided nearly 4600 cups of joe to our front line workers.
Just in the past 2 weeks alone we've delivered over 4900 meals for our local healthcare workers.
We've supported our local restaurants with nearly $135,000 in donations from our community. We've heard from numerous restaurants how meaningful our orders have been for their workers.
We are thrilled to have supported so many restaurants. The list is long…here are some of the small businesses that we've ordered from over the past couple of weeks:
BK9
Pulia Ristorante
Pitas And Sticks
Chicky's General Store
Miriam Restaurant
Park Slope Ale House
King David Tacos
The Awkward Scone
Palo Santo
Surfish Bistro
Pure Bistro
Bar Toto
Bar Camillo
East Wind Snack Shop
Da Nonna Rosa
Olmsted
Woldy Kusina
VSPOT
Chez Oskar
Kotti Berliner Döner Kebab
Sotto Voce Restaurant
Bogota Latin Bistro
Lincoln Station
Zatar Cafe
The Pixie and The Scout
Bagel World Park Slope
Bar Crudo NY
Mr. Wonton
Negril BK
(Images via Jessica Fields on GoFundMe)
April, 2020 Grantee