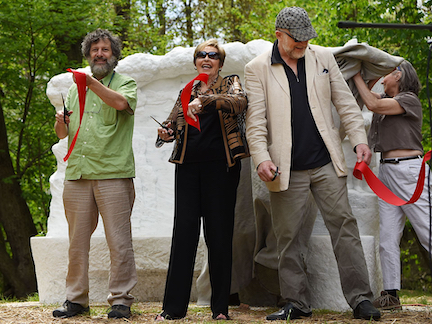 Pete Seeger's 100th Anniversary Weekend
December 2, 2009
May 3-5, 2019
Join us for a weekend of concerts and celebrations to commemorate the 100th anniversary of Pete Seeger's birth and to recognize Toshi Seeger's life and legacy.
Ribbon Cutting photo by Anne Marie Caruso/ NorthJersey.com
Friday May 3, 8:00pm
Guy Davis – Pete's 100th Anniversary Weekend
Guy Davis needs no introductions. He has been an iconic champion of the Blues as an American art form throughout his career. He's played an assembly program at a school in the Basque region of northern Spain and at an integrated school in South Carolina. He's performed on the Main Stage in front of 15,000 people at folk, jazz, and blues festivals around the globe, on nationally syndicated TV programs like "Late Show With David Letterman," "Late Night With Conan O'Brien," and on radio programs like "A Prairie Home Companion" and "Paul Jones Live in Session" on BBC. Guy Davis commemorates the life and legacy of Pete Seeger in this special concert on Pete's 100th birthday.
$10 Suggested Donation
Saturday May 4, 12:00pm
Pete and Toshi Seeger Commemoration
In life it's been said that Pete would not have become Pete Seeger without Toshi. It's the same with the Seeger Monument, incomplete without Toshi. Join us in the unveiling of the newly carved image of Toshi Seeger. Representatives of the Puffin Foundation and sculptor Gary Sussman will give remarks. Opening will also feature local musical guests.
Free Event
Saturday May 4, 2:00pm
Pete's Songs Family Concert
The Children's Music Network, Walkabout Clearwater Chorus, and special guests celebrate the legacy of Pete and Toshi Seeger through music and song. The program is a family event geared toward school-aged children to bring Pete's songs to the next generations. Bring the family!
$10 Suggested Donation
Saturday May 4, 4:00pm
Outdoor Open Stage
The Puffin Outdoor Stage will be open and available to performers from all genres. We are looking for performances that relate to Pete Seeger and his legacy of activism! Submissions of spoken word, poetry, dance, music, theater, etc., are all welcome! If you are interested in signing up for stage time, please submit your performance proposal to , or call 201-836-3499.
Free Event
Saturday May 4, 8:00pm
Jaeger & Reid – Pete's 100th Anniversary Weekend
Judi Jaeger was honing her renewed pursuit of songwriting to express her loss after the death of her mother. Bob Reid had written songs sung by Pete Seeger, performed at the UN, and festivals across the country. Their fortuitous meeting lead to a collaboration and release of their highly acclaimed album, "From Way Up Here." The duo presents a special concert to commemorate the life and legacy of Pete and Toshi Seeger.
$10 Suggested Donation
Sunday, May 5, 4:00pm
Jacob Lee Bernz and Friends – Pete's 100th Anniversary Weekend
Jacob was born and raised in the Hudson Valley surrounded by great music and talented colleagues of his father, two-time Grammy winning producer/musician David Bernz. Pete Seeger was a family friend and frequent presence in his life and Jacob was one of the founding members of Clearwater's Power of Song. Now, Jacob is a prolific songwriter carrying on the music and message of his heroes. Concert is a look back to Pete and a look forward to the future.
$10 Suggested Donation
Reservations Recommended for all events
or 201-836-3499
Doors open 30 minutes prior to show time and reservations are held until 15 minutes to show time.