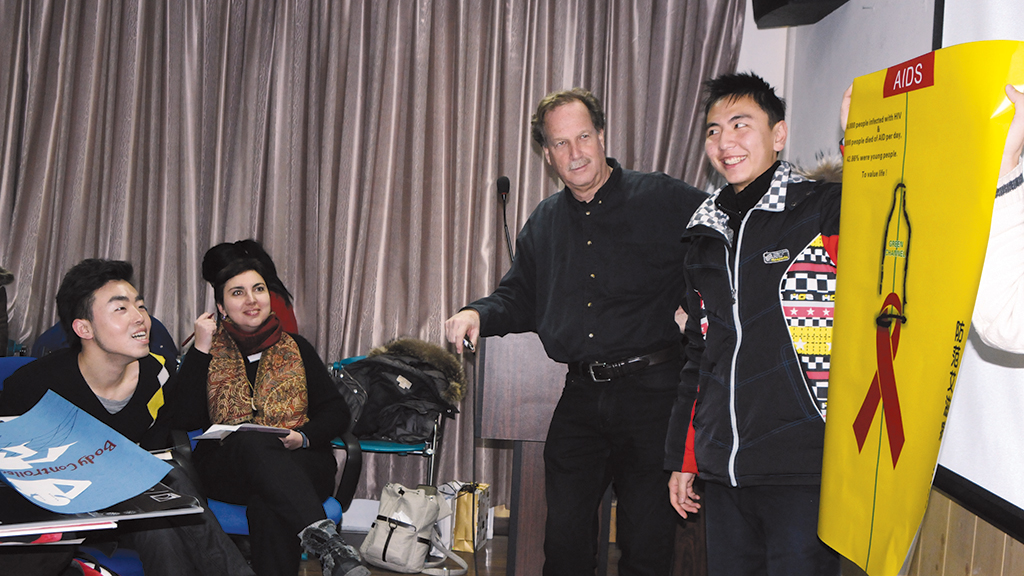 Professor Moshe Banai shares insights at home and abroad
April 12, 2016
Management expert says ignore the propaganda and stick to the facts
JEWISH STANDARD Article by Lois Goldrich April 7, 2016, 3:54 pm
Read more: Professor shares insights at home and abroad | The Jewish Standard http://jewishstandard.timesofisrael.com/professor-shares-insights-at-home-and-abroad/#ixzz45caaxc6h
What do you do with a master's degree from Tel Aviv University and Ph.D. in management from the London Business School?
Well, you can teach at Tel Aviv University, the London Business School, InterAmericana University in Puerto Rico, Kazan State University in Russia, Kiev National University of Design and Technology in Ukraine, University of Salzburg for Applied Sciences, Shanghai University of Science and Technology, and the Sydney Business School in Australia.
Or, perhaps, you can conduct comparative studies of domestic and multinational corporations — visiting Austria, Belgium, Britain, China, France, Germany, Hungary, Israel, Morocco, Netherlands, Russia, Turkey, and Ukraine — and you can publish your findings in 80 academic journals and books.
Or, you can do it all. That's what Israeli-born Moshe Banai of Teaneck does. Dr. Banai now is a professor of management at Baruch College and the chief editor of the academic journal "International Studies of Management and Organization."
Dr. Banai's resume is daunting, listing as areas of expertise "International Management, Management of Multinational Corporations, International Human Resource Management, Cross-Cultural Behavior, Organizational Strategy and Design, Management Development, and Management in Transitional Economies."
Still, as I recently learned at lectures Dr. Banai has given at Teaneck's Puffin Center, he is approachable, understandable, and clear-sighted about the business and financial issues facing our country and our world, today. Even more, he is married to Rachel Banai (a former photographer for this paper), who joins him in all his travels, launching photography exhibits in the countries they visit. The couple has two daughters, Noit and Moran.
Actively involved with the Puffin Center since its inception 18 years ago, Dr. Banai sits on the advisory board of the Puffin Foundation and recruits artists for the organization's cultural center. Ms. Banai has run the group's photography classes for more than a decade.
While Dr. Banai's lectures at Puffin focused mainly on the business climate of other nations — notably Russia, China, and the European Union — he has definite views on what our own country ought to be doing. He bemoans the "ignorance" of those who preach or believe what he calls "propaganda."
For one thing, he believes that "the government should get heavily involved in the creation of jobs. There's no other choice." Sometimes, he says, we have an efficient market but unhappy people; at other times, it's just the reverse. "We can't have both all the time." He also believes that our economic culture will change because there are increasing numbers of women, Hispanics, and other minorities in the marketplace.
"You need to have a long-term view to understand the current situation," he said. "People shouldn't be swayed by propaganda but should stick to the facts and scientific evidence" — as reflected in statistics and economic theories of trade — "and make their own judgments. The dichotomy between Republicans and Democrats is superficial and has no real meaning. The consultants for the candidates know it, but the candidates want to be popular and tell the people what they want to hear." And at least one candidate, he added, has bragged that he consults only with himself.
We should care about economic issues, like free trade, because "they have a major influence on our lives," Dr. Banai said. "Because of free trade, the price of products and services go down. Future presidents criticize this and promise to limit or diminish it. It doesn't make economic sense." As for outsourcing, "we outsource some jobs and people in foreign countries make money and can buy our products." And yes, he said, we are still major producers in some areas, including, for example, medical care, aircraft, entertainment, and communications.
Eliminating free trade "won't fix the economy because prices will go up. When we put a tariff on foreign products, they put it on us, and the price goes up for everybody." In addition, if we maintain protection for our industries, "we become inefficient because there's no competition."
Between 1993 and 1996, Dr. Banai, who was assigned to oversee the building of a business school in Russia, spent about seven months in that country under a joint program between City University and USIA (now USID). "My biggest challenge was that I had to stand in line for food," he recalled. While his team was able to finish the school, "it was stolen by the administration," he said, "hijacked to generate revenue for the professors." As a state university, it was meant to be free, "but I found out they were charging students $7,000."
After that venture, he served as a founding professor of an international business school in Israel, "but it didn't last." Its success, he said, "was premised on peace, on drawing students from all over the Middle East. But Rabin was assassinated and peace didn't materialize. They couldn't see how to generate students." Dr. Banai continues to visit Israel at least once or twice a year.
The winner of three Fulbright awards — two for projects in Austria and one for Ukraine — Dr. Banai said he's probably gotten more of these grants than anyone else in the United States. His assignments, often through invitations from universities, have taken him all over the world. For 12 years, he and Rachel spent summers and winters in China.
"I found that when it comes to the individual, people are pretty much the same," he said. "But when it comes to systems, they differ to a great extent. The greatest difference is between China and the U.S. They have a one-party government, a business monopoly, no freedoms, and no democracy."
Nevertheless, he said, he was happy to spend the time there, because not only does he enjoy Chinese food, "but I felt good about sharing the principles of a free market with people who needed it the most." In addition, he said, "The Chinese people are nice hosts, and the reception was always outstanding. I'm interested in their culture, and this gave me motivation." He said what surprised him most was that "despite my knowledge of the big difference in culture, it was still very difficult to adjust my own behavior. You may know about it, but it's hard to execute it. It was hardest in China. We are short-term thinkers and executors. It doesn't work like that in China," where the norm is long-term thinking and planning.
All these projects — and additional assignments in Australia and Puerto Rico, among other places — "gave me the opportunity to meet colleagues, develop research programs with them, and collect data" for the international research projects he has conducted over the past 30 years, Dr. Banai said. "There have been three basic projects — expatriate managers, the shift from communism to capitalism, and international negotiations."
With all these experiences under his belt, Dr. Banai said his favorite place still is the United States. "I kiss the soil when I arrive back here, and you can quote me on that," he said. "Through all my traveling, I've learned how strong are the democracy and freedoms we take for granted."
Read more: Professor shares insights at home and abroad | The Jewish Standard http://jewishstandard.timesofisrael.com/professor-shares-insights-at-home-and-abroad/#ixzz45casXiAr