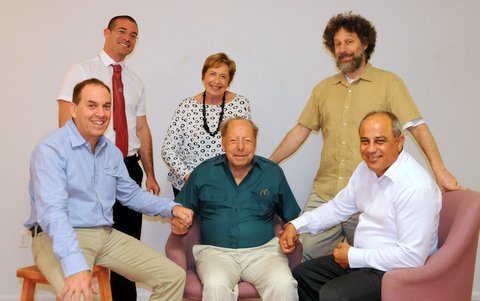 Puffin Foundation and Givat Haviva Educational Foundation Meet
July 15, 2014
The senseless violence in the Middle East has reaffirmed our commitment to help end the violence and work for a permanent Peace in the Middle East.
For many years we at the Puffin have sought to strengthen the Peace forces in Israel and Palestine by inviting Arab Israelis and Jewish Israelis each year to share their summer vacation together at Camp Shomira in the Catskills. In partnership with Israel's Givat Haviva Educational Foundation we hope that our efforts will succeed in laying the groundwork for a peaceful Middle East.
Each year we subsidize the airfares of 25 Arab & Israeli children to visit the United States for an educational experience. In late August these 25 children will exhibit the photography of their experiences at the Puffin Cultural Forum with an exhibit entitled "Through Others' Eyes."
With our support the Israeli Educational Foundation Givat Haviva is continuing this peaceful effort in Israel where Arab and Israeli children meet socially and educationally to share in each ones culture and experiences.
Members of Givat Haviva and the Puffin Foundation