Sculpture Garden
December 2, 2009
We are proud to see the growth and recognition that the Puffin Foundation Sculpture Garden has received in the six years of its existence. In a world presently wrought with wars and natural disasters, our gardens offer a peaceful escape for reflection and contemplation.
In addition to yearly special exhibits, our permanent sculpture collection brings to public view the works of Stanley Marcus of Becket, Massachusetts; Sarah Haviland of Peekskill, New York; Gil Hawkins of Leonia, New Jersey; Eluisa Altman of Bogota, New Jersey; Russ Vogt and John Turula of Columbus, Ohio; and Omit Sharma of Rohtak, India.
The Foundation also curates special exhibits at the garden. We were recently honored to present eight works by internationally acclaimed sculptor Kenneth Patrick Payne.
The Garden has given new dimension to a corner of Teaneck, New Jersey, which now houses the Puffin Cultural Forum, the Teaneck Creek Conservancy, and the Puffin Foundation, Ltd. It is the gateway to the Teaneck Creek Conservancy's newly created 46-acre eco-art restoration, part of Bergen County's Overpeck Park facilities.
The Garden is free and open to all during daylight hours. Your presence is always welcome, as are schools, institutions, and community groups. Come and share an experience where "art and nature meet."
The Puffin Sculpture Garden is located at 20 Puffin Way (formerly East Oakdene Ave.) off Teaneck Road in Teaneck, New Jersey. Please note that Kenneth Payne's work is no longer on display.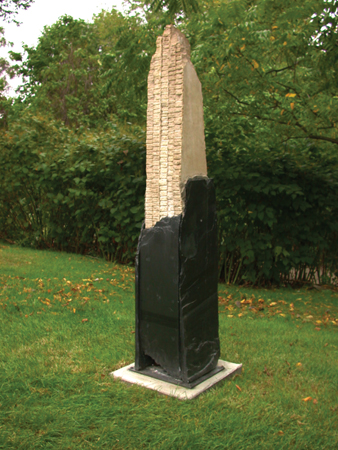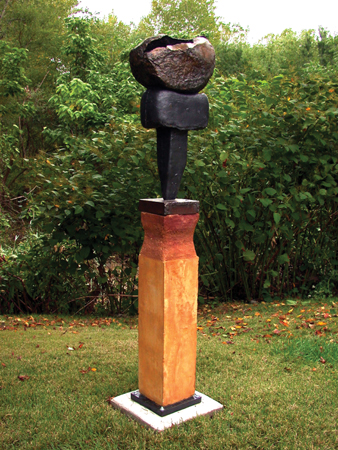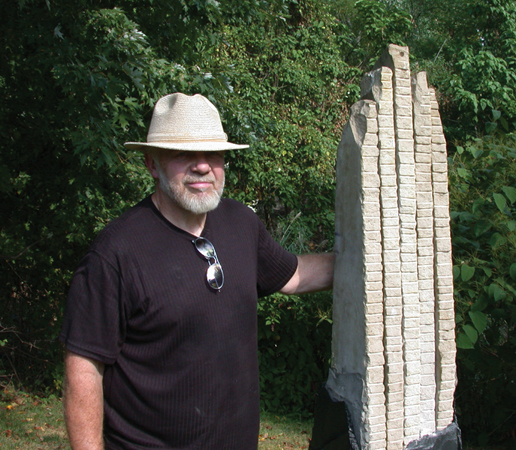 Up from the Earth
Sculpture
by Kenneth Patrick Payne
Sculptor Kenneth Patrick Payn was born in 1950 in Milwaukee Wisconsin. After attending six different colleges in four different states, which included such diverse schools as New York University and AT&T State College in North Carolina, he received his MFA from the University of Wisconsin.
He has lived and worked in many places and currently resides in Buffalo, NJ. He has completed large scale sculpture projects in several countries including Hungary, Israel, Finland, Latvia, Estonia and the United States. His mixed media work ranges from the intimate to the monumental. He often works on site combining local materials with cast metal or glass elements
These on site projects reflect the areas and cultures where they are created. He employs the social content inherent in the various media to create metaphors with emotional poinancy. He has shown widely and is included in many public and private collections.