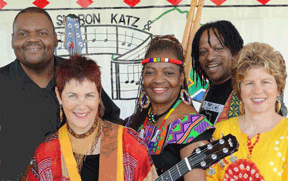 Special Peace Train Youth Summit – Sharon Katz & The Peace Train
November 8, 2012
International Performers Visit Teaneck & Englewood
Sharon Katz & The Peace Train – South Africa's Cultural Ambassadors
November 29th & 30th, 2012 give workshops to students in our schools
AND
Special Peace Train Youth Summit
7pm Friday November 30th at Puffin Cultural Forum
Sharon Katz, founder of The Peace Train in South Africa in 1992, mounted a countrywide tour around South Africa by train, shortly after the release of Nelson Mandela from South African prisons, and before his election as President of South Africa in 1994. She tours the world teaching Peace & Reconciliation and the anti-bullying messages contained in this historic and triumphant story.
Teaneck's Puffin Foundation, Ltd. has invited Sharon Katz and her singing partner Wendy Quick, to present workshops on South African music, dance, history and culture at Grieco Elementary School in Englewood NJ, Thomas Jefferson, and Benjamin Franklin Middle Schools in Teaneck NJ on November 29th and 30th. 2012 Their educational workshops will culminate in a presentation at the Puffin Cultural Forum on 7pm on Friday, November 30th.
The Peace Train Youth Summit performance will feature students from the three schools who have participated in the workshops. Students will present songs and dances of South Africa with Sharon Katz & The Peace Train and they will also have an opportunity to express their ideas and hopes for a peaceful world.
The presentation at the Puffin Cultural Forum is free of charge.
Kindly reserve your seats by phoning 201-836-3499
Puffin Cultural Forum is located at 20 Puffin Way, Teaneck, New Jersey. www.puffinculturalforum.org
Since seating is limited reservations will be on a first come first served basis.
For More Information about The Peace Train please visit:
www.SharonKatz.com
We look forward to meeting you!