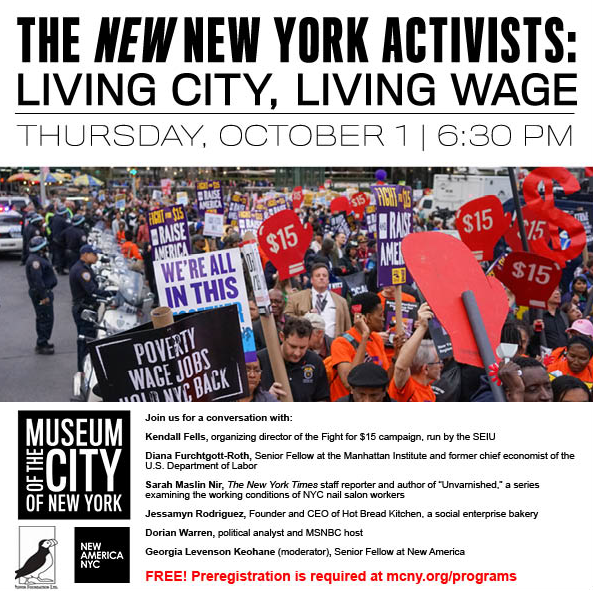 The Fight for a Living Wage
September 28, 2015
Puffin is proud to present a special event:  The New New York Activists: Living City, Living Wage
Thursday, October 1 at 6:30 pm at the Museum of the City of New York.
New York's economic dynamism has long been a hallmark of the city; for centuries, jobs, and opportunity have attracted people to New York from across the nation and around the globe.  Yet today, many New Yorkers find themselves unemployed or working in unsafe conditions for unsustainably low wages.  At a moment of impassioned debate about the right to a "living wage," join us to hear from a diverse range of activists, scholars, journalists, and entrepreneurs who use organized labor, equitable business models, and the media to fight for a more livable and prosperous city — for all New Yorkers. Reception to follow.
Kendall Fells is the organizing director of the Fight for $15 campaign, which is funded by the Services Employees International Union (SEIU).
Diana Furchtgott-Roth is Senior Fellow at the Manhattan Institute and was chief economist of the U.S. Department of Labor between 2003 and 2005.
Sarah Maslin Nir is a staff reporter for The New York Times who published an influential two-part investigative series about workplace conditions in New York City nail salons in April, 2015.
Jessamyn Rodriguez is the Founder and CEO of Hot Bread Kitchen, a social enterprise bakery supporting low-income, immigrant, and minority entrepreneurs through on-the-job training and business development.
Dorian Warren is political analyst and MSNBC host.
Georgia Levenson Keohane (moderator) is Senior Fellow at New America and Director of the Program on Profits and Purpose.
This event is part of the Museum's Activist New York program series, made possible by the Puffin Foundation, co-presented with New America NYC, and co-sponsored by the Murphy Institute for Worker Education & Labor Studies at CUNY.