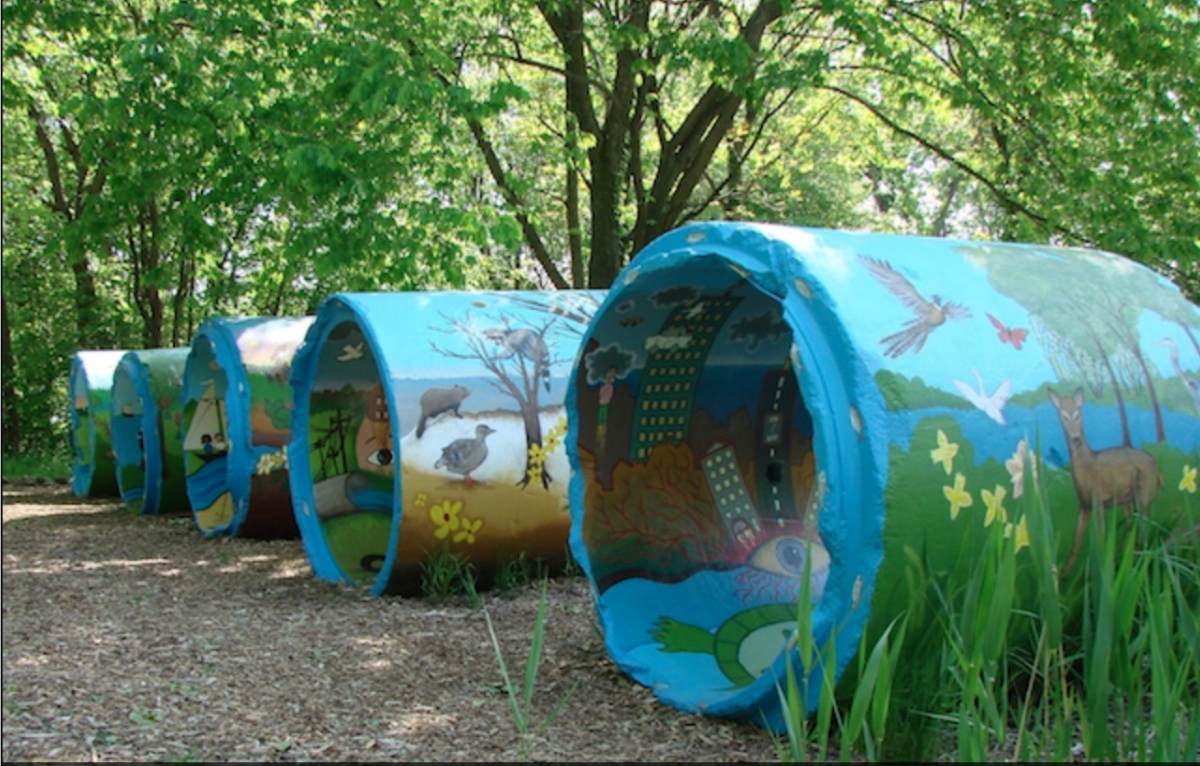 The Puffin Spotlight: Issue 03
April 30, 2021
Environmental Activism
---
"So, I guess you save Puffins?" Well, no, we don't. As many readers of this newsletter are probably aware, the Puffin Foundation was named after a citizen-led campaign to save these beloved seabirds. The story of the puffin represents not just our appreciation for the natural environment, and our desire to see it preserved and restored, but also our steadfast belief in "people power." In this issue of the Spotlight, we'd like to share some of the Puffin Foundation's environmental initiatives, especially those that have been led by and continue to benefit the people of Teaneck, home to Gladys and Perry Rosenstein as well as the physical office of the Puffin Foundation and the Puffin Cultural Forum.
---
Teaneck Creek Conservancy & EcoArts
Nothing better exemplifies our passion for community-driven environmentalism than the Teaneck Creek Conservancy, which celebrated its 20th anniversary this year. We've recounted the origin story on our website; the short version is that Perry saw county land that had become a dumping ground being surveyed for possible development and envisioned something radically different. The result was a dynamic public-private partnership that has restored 46 acres of wetlands and provides a welcome natural respite for community members. Because restoration of natural habitats is an ongoing effort, not a one time intervention, the park is currently undergoing restoration; it's expected to reopen in a few months.
One of the most important features of the TCC is the unique "Eco-Art" that it contains. The land had been used as a repository for waste material from the construction of the New Jersey Turnpike and I-80. There was too much of it to remove, so when the park was founded, a promise was made to the Bergen County Parks department to "upcycle" that debris by using it for on-site artwork. Under the direction of TCC's EcoArts committee, this innovative approach not only addressed the problem of what to do with the waste material, it also has created rich opportunities for artists and community members to co-create unique works that enhance the experience of visitors to the park.
The Five Pipes illustrate perfectly how that agreement has been fulfilled. Under the artistic direction of Eduardo Rabel and with the help of school children and adults from the area, these enormous drainage pipes were transformed into a painted sculpture that depicts four eras from Teaneck's history as well as possible visions of its future. Local volunteer Carl Hausman carefully restores the paintings on the pipes every year and is involved in several other works at the park as well.
The co-chair of the EcoArts committee and its longtime champion is Teaneck resident Anthony Buscetti, who for decades has combined his passion for art and his talent for administration in myriad ways, but primarily in the realm of education. Tony has been instrumental in securing many of the grants that have made the site-specific artwork in the park possible. To read about some of the other dedicated volunteers of EcoArt, please do visit their webpage on the TCC's site. You can also learn more about Five Pipes and the other works of artin the park.
---
Puffin Foundation Grants
While Puffin pays special attention to the needs of our local community, our grant cycle reviews arts-related proposals from across the country, many with an eye towards environmental education & activism. Two examples from our early granting days to the present: our 1997 grant to Allison Prete's Lavender Lake: Brooklyn's Gowanus Canal focused attention on this highly polluted urban waterway and undoubtedly helped lead to its eventual designation as a federal Superfund site; and The Puffin Environmental Reporting Fund supports Jacobin's environmental coverage, allowing the magazine to give environmental justice the priority coverage it deserves. The project commissions existing Jacobin contributors on the topic but also brings fresh voices and perspectives to the magazine.
---
The Puffin Camera Club
In any season, visitors to TCC might encounter a member of Puffin's Camera Club. For 17 years, Rachel Banai has helped community members hone their photography skills in the park, culminating in an annual exhibition at the Puffin Cultural Forum. Normally the photos are hung inside the gallery, but in 2009 they were memorably hung within the park itself! Selected photos by club members also grace Puffin's annual calendar, giving people who can't visit TCC in person a chance to commune with some of its beauty. The Camera Club's 2020 exhibit, In Corona Times, was exhibited virtually due to the pandemic, and can be viewed on our website.
---
Puffin Cultural Forum
Indie Lens Pop-Up: Eating Up Easter
Documentary (2018)
Puffin, in partnership with Teaneck Int'l Film Festival and Independent Lens, screened Eating Up Easter in May 2020. This powerful documentary by Native Producer/Director Sergio Mata'u Rapu shows how the tiny and remote Easter Island (Rapu Nui) is threatened by climate change and globalization, and gives voice to four islanders working on multiple fronts to preserve the island's culture, history, and environment. The film is currently available to rent or purchase on a number of platforms including Amazon, Vudu, and YouTube.
Nature in Visual Art (2014)
This multimedia exhibition showcased nature and environmental themes in a wide variety of styles. It featured a collection of works by participants in the Artists in Residence in Everglades (AIRIE) program, as well as a number of pieces by Pat Bretano, a NJ-based visual artist and 2008 Puffin Grant recipient. Pat's works reflect observation, exploration, and a deep spiritual attachment to the natural world. Nine pieces from the exhibit can be seen on our website, including two by John Costin, whose roseate spoonbill is pictured above.
---