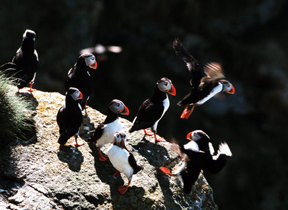 Tony Kushner Puffin/Nation 2011 Creative Citizen Award Winner donates $100,000 prize
December 13, 2011
"American playwright Tony Kushner has donated $100,000 in prize money to the university whose board originally blocked a decision to award him an honorary degree earlier this year.
In May, John Jay College, part of the City University of New York (CUNY), was initially prevented from honouring Kushner following criticism from one of the university's trustees, Jeffrey Wiesenfeld, over what he perceived as the playwright's anti-Israel stance. Four days later, following a media firestorm, the decision was rescinded.
However, accepting a Creative Citizenship award at a ceremony in New York on Monday night, the playwright, best known for his epic Angels in America, said he would nonetheless be donating the $100,000 prize money to CUNY.
The award, which is jointly presented by The Nation Institute and Puffin Foundation, officially marks Kushner's 'lifetime of artistic work and activism that has given voice to the marginalised and explored the most challenging issues of the past 50 years'.
Kushner's work has always placed issues of social justice at its centre. Angels in America, arguably his masterpiece, tackled the conservative backlash against Aids, while other plays have looked at the relationship between Afghanistan and the west (Homebody/Kabul) and the rise of capitalism (Hydriotaphia, or the Death of Dr Browne).
Though the CUNY incident is not directly mentioned, Kushner's subsequent conduct has been cited as a motivating factor behind the award.
Last month, Andy Breslau, president of the Nation Institute, said: 'Tony's refusal to submit to the mischaracterisation of his statements on Israel at a moment of great public controversy struck the jury as not only commendable, but also in keeping with his career-long commitment to the public responsibilities of the artist.' "
-via The Guardian, full article here.