ALBA-Puffin Human Rights Award for 2012: New Yorker
June 18, 2012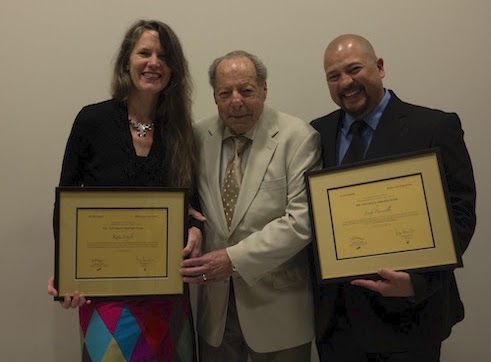 Check out an excerpt from The New Yorker about 2012 Puffin ALBA Award winner Kate Doyle.
June 9, 2012
The Documents and the Murderers
Posted by Peter Canby
How do you bring tolerance and democracy to a country in which a murderous military, which over the years killed some two hundred thousand of its own citizens, is effectively still in power? You hold elections—sure, elected governments are a good place to start—but what about the past, the brutal back-story? What about a country in which forty-five thousand of the murdered simply disappeared? Do you turn the page, or do you insist on an accounting? And if so, how?
These questions ran through discussions at the Museum of the City of New York recently, both before and after the Puffin Foundation—an arts and human-rights organization—and the Abraham Lincoln Brigade Archives (ALBA), an educational organization dedicated to perpetuating the memory of the American volunteers to the Republican side of the Spanish civil war, gave their hundred-thousand dollar Human Rights Award to Kate Doyle and Fredy Peccerelli, two activists working in Guatemala, the country in question.
The Puffin/ALBA award is perhaps the world's largest human-rights award. Last year—its initial year—it was given to Baltasar Garzón, the embattled Spanish judge and champion of transnational justice. Sebastiaan Faber, professor of Hispanic Studies at Oberlin, and chairman of the Board of Governors of ALBA, called Doyle and Peccerelli "brave, persistent, and innovative."
Doyle, a document expert who worked with the National Security Archive in Washington, has spent many years working with a surprising trove of documents that had been considered lost. In 1997, as part of the peace accords, the Guatemalan National Police was disbanded—peace negotiators considered them to be so deeply implicated in the violence that a new force should be established from scratch. In 2005, a routine inspection of a complex of abandoned buildings turned up the complete archives of the disbanded police force—some eighty million pages in all—which detailed the surveillance, detention, torture, and disposition of numerous victims…
CONTINUE reading the article at newyorker.com