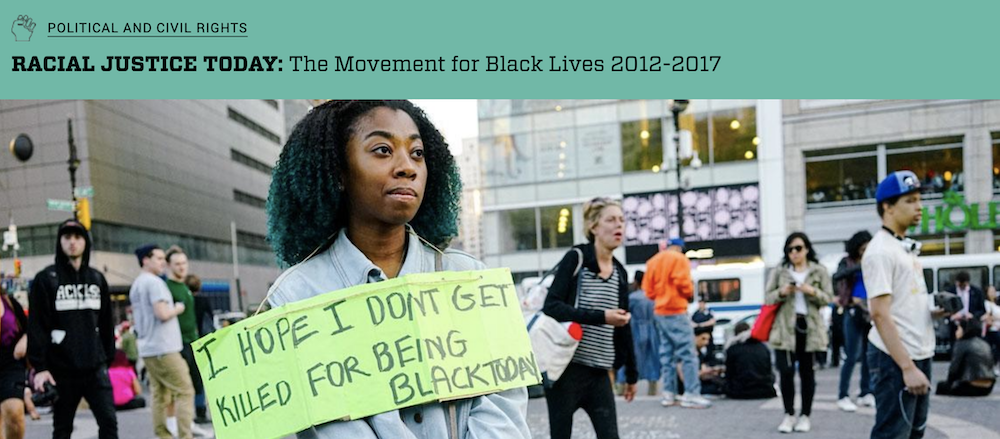 Puffin Gallery for Social Activism at the Museum of the City of New York
June 26, 2019
Current exhibition: RACIAL JUSTICE TODAY: The Movement for Black Lives 2012-2017.
"In 2013 #BlackLivesMatter first appeared on Twitter as a rallying cry to "recognize the humanity of all black life." Organized by three women of color—Alicia Garza, Patrisse Cullors, and Opal Tometi—in the aftermath of the murder of Florida teenager Trayvon Martin, the hashtag elevated activism against racism in the criminal justice system across the country.
New York activists became integral to what has become known as the Movement for Black Lives. In 2014 protests over racial profiling and use of police force occurred across the city in response to the deaths of Eric Garner on Staten Island and Akai Gurley in Brooklyn. Activists cited the chokehold NYPD officers used on Garner as illegal and the use of a gun on Gurley as unprompted. On December 13, 60,000 New Yorkers took to the streets of Manhattan for the Millions March.
The issues raised by the Movement for Black Lives are far from new. In New York City, home to the nation's largest metropolitan black population, black residents have protested harsh and discriminatory police treatment for decades, from Brooklyn in 1925 to "stop-and-frisk" policies introduced in the 1990s.
In a moment of heightened protest and organizing, activists have connected systemic racism with gender discrimination, health hazards, anti-immigrant sentiment, and economic inequality. Through new organizations and alliances, the Movement for Black Lives has moved toward a broad platform calling for equality, justice, and power in New York and beyond, even as it has become a flashpoint for opposition and debate about the role of race in the 21st-century United States."
Photo via activistnewyork.mcny.org