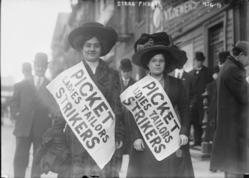 Puffin Gallery on NYC Activism Opens at Musuem of the City of NY
May 22, 2012
New York City's Dramatic 350-year History as a Focal Point of Social Activism Explored in New Puffin Gallery at the Museum of the City of New York

Museum of the City of New York Inaugurates the Puffin Foundation Gallery with Activist New York
(New York, NY) – Activist New York, the inaugural exhibition in the Museum's new Puffin Foundation Gallery, examines the ways in which ordinary New Yorkers have advocated, agitated, and exercised their power to shape the city's – and the nation's – future. Centuries of activist efforts, representing the full spectrum of political ideologies, are illuminated through a series of installations featuring 14 New York movements ranging from the mid-17th century to today.
The exhibition features historic artifacts and images from the Museum's celebrated collection as well as pieces on loan from other collections, along with interactive elements that enable visitors to explore and express their own views.  For the first three weeks of the exhibition attendees will have a chance to view the original "Flushing Remonstrance," the 1657 landmark document protesting restrictions against Quakers in New Amsterdam.
The Puffin Foundation Gallery is situated in a newly renovated and climate-controlled 2000 square foot south gallery on the Museum's second floor, and named for the foundation that has supported the gallery with a gift of $3.25 million. "Activism is a banner for all people to share their hopes and dreams of a better world," said Perry Rosenstein, president of the Puffin Foundation.  "We are particularly pleased that the gallery gives guests the opportunity to connect with modern day activist organizations working on the pressing issues of today.  Along with the ability for activists and the public to update images of current activism across the city, this exhibit enable viewers to learn about the past, present and future of activism in New York," added Rosenstein.
Susan Henshaw Jones, Ronay Menschel Director of the Museum said, "An understanding of New York City's historic distinctiveness is incomplete without grasping the motivations and issues for which activists have struggled and fought to bring about change. Virtually every aspect of life in the city has been affected by the actions of passionate and committed New Yorkers who have not been content with the world as they found it. We are enormously grateful to the Puffin Foundation for enabling the Museum to tell the stories of New Yorkers who demonstrated their passion publicly and in great numbers."
View the NY1 story and images of the gallery here.