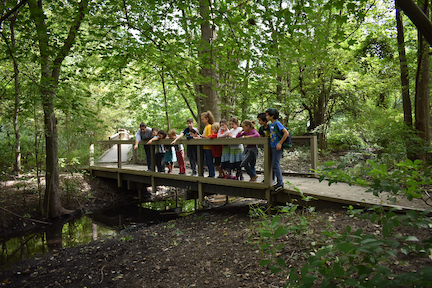 Teaneck Creek Conservancy
March 1, 2022
Walking through the lush greenery of Teaneck Creek Park, listening to the birds and seeing artwork at every turn, it's hard to imagine that that as recently as 20 years ago this land had been a garbage dump. Although the wetland property was considered a rich natural resource by both the Lenape and the colonists to whom they deeded the land in the 1600's, the advent of urbanization and industrialization in the 19th century changed the view of wetlands, which became merely an impediment to development.*
By the mid 20th century the land had become a dumping ground for commercial waste and municipal construction debris, its groundwater polluted by toxins from nearby gas storage tanks.
That usage continued for 50 or so years, until one day Perry Rosenstein looked out his office window and saw surveyors. The land was going to be developed for commercial use. But Perry had a different idea. He envisioned a "people's park," a greenspace where members of the community could enjoy a natural environment, educational programs, and of course artwork. Perry and his wife Gladys set about working with the Bergen County Parks Department, along with a diverse group of community leaders and stakeholders, to develop a plan. Teaneck Creek Conservancy launched in 2001, and in 2006, Teaneck Creek Park was finally opened to the public.
Today, the Conservancy is a tranquil 46 acre park at the north end of the Hackensack Meadowlands, with 1.3 miles of groomed trails enjoyed by birders, families, artists, and anyone needing a break from the surrounding urban environment. Classes are regularly held here, and "The Weed Warriors" keep the park looking pristine. The mission of the Teaneck Creek Conservancy is to be a member-supported, nonprofit organization dedicated to the reclamation and protection of the environmental, cultural, and historical legacy of the Teaneck Creek watershed.
The creation of the Teaneck Creek Conservancy epitomizes the mission of the Puffin Foundation, and the vision of its founder, Perry Rosenstein. Where others saw wasteland or commercial opportunities, Perry and Gladys saw value in this land – not monetary value, but community value. With his usual persistence and persuasiveness, he spearheaded the creation of a beautiful space that enriches the lives of residents and restores an important habitat that had been degraded and despoiled. Puffin continues as a major supporter of TCC, a commitment that includes housing the offices of the Teaneck Creek Conservancy within the Foundation, and direct assistance for staff and many projects.
For more on the history of the park and the people who made its creation a reality, please enjoy this video clip of TCC Board President Adam Strobel.
For an even deeper dive, you can check out the wonderful history videos on the Teaneck Creek Conservancy YouTube channel as well as the text resources listed below.
https://www.northjersey.com/story/news/coronavirus/2020/04/04/perry-rosenstein-teaneck-nj-civic-leader-years-dies-coronavirus/2947595001/
https://patch.com/new-jersey/teaneck/teaneck-creek-conservancy-honors-park-advocates
https://richardkirkmills.net/section/402982-Teaneck-Creek-Conservancy.html