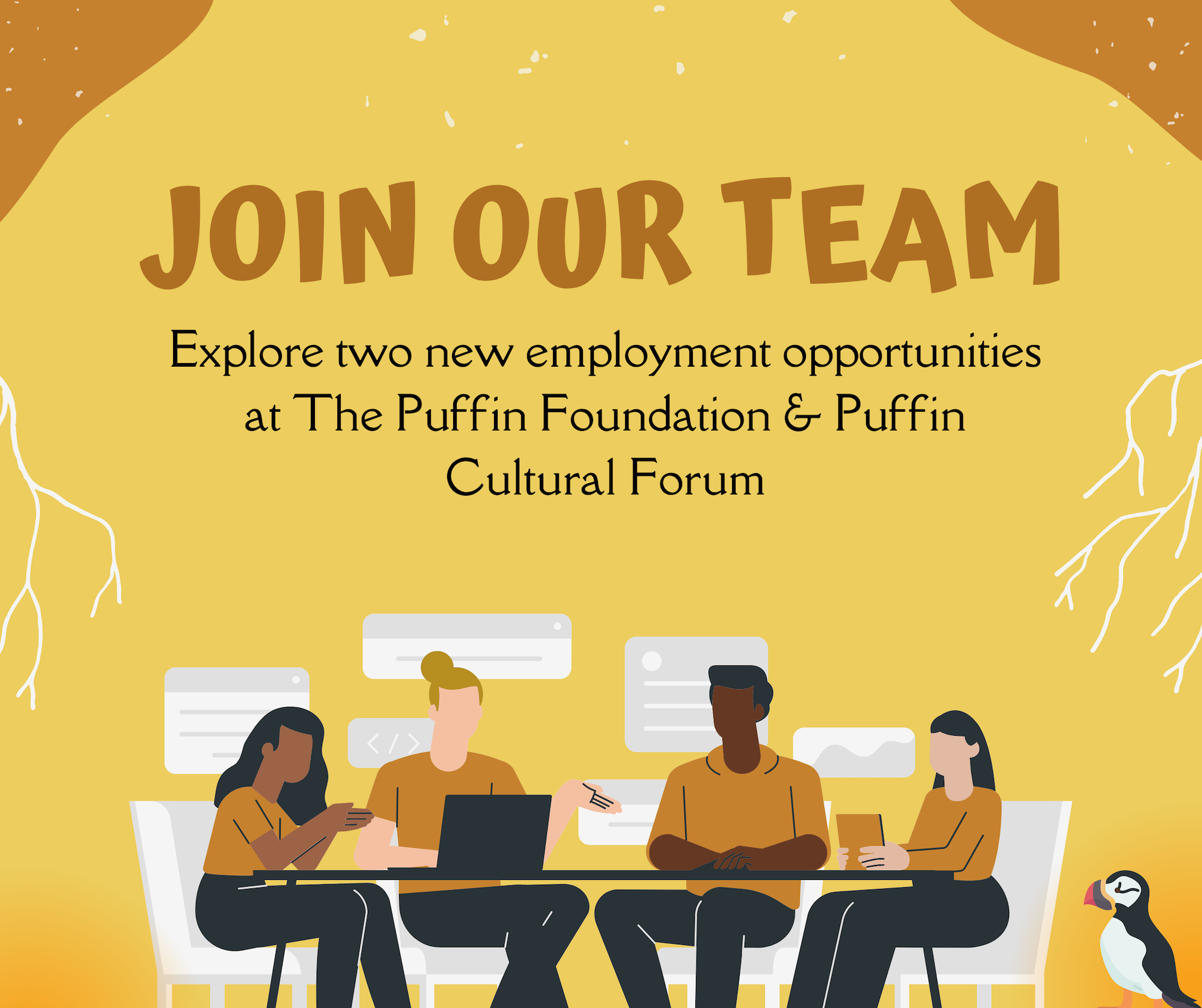 We're Hiring!
October 13, 2022
The Puffin Foundation, Ltd. is looking to fill two positions within our organization. Each job has its own application process, so please click to links below to review and apply.
---
Background
The Puffin Foundation, Ltd. seeks a Financial Controller who shares our commitment to support artists and organizations doing meaningful work that aligns with our mission. Our grantees create cultural events and works of art and engage in educational and community outreach that addresses vital issues such as the climate crisis, civil rights, social and economic justice, and discrimination in its many forms. We currently have an overall budget of under $5 million which includes $1million of traditional operating expenses.
The Controller, reporting to the President is responsible for overseeing the Finances of the Foundation in creating and maintaining accurate and timely nonprofit financial reports for the organization through managing the general ledger, maintaining an accurate trial balance, preparing financial statements, management reports, and managing grants and contracts. The Controller will lead the day-to-day finance operations, compile financial statements and reports, implement policies and procedures, and perform the Foundation's accounting functions. The Controller's skills and participation will also be solicited and valued as an important contributor to select Puffin projects.
Core Responsibilities
• Manage Puffin's financial affairs and compliance as well as provide organizational assistance in Foundation activities such as budgetary review of grant applications and other Puffin projects.
• Prepare timely internal and external financial reports required; prepare monthly, quarterly, and annual financial statements.
• Lead the timely month-end close process and work closely with Puffin's Office manager to complete monthly analysis and reconciliation of general ledger, bank, investment, loan, and credit card accounts, recognize revenue, accruals, prepayments, and prepare related schedules.
• Manage day-to-day accounting operations including accounts payable, payroll, fixed assets, time, and expenses, review general ledger for completeness and accuracy, and cash flow management, reporting and forecasting.
• Lead and maintain grant disbursement and contract management systems, track Grantee restricted funding, meet deadlines and compliance requirements, create reports for the Puffin Board including project budgets and reports, invoices, financial status reports, variance analysis, and grant closeout documents- and any reports required for Puffin contract or grant received in accordance with contract and grant requirements.
• Oversee the payroll process, manage, and maintain compliance with federal, state, and city regulations, filings, reporting requirements, and company policies; reconciliation of payroll related accounts and W-2 information.
• Prepare timely creation and analysis of organizational and budgets in consultation with the President.
• Manage the annual close including the annual accounting and tax return preparation processes, produce reports, reconciliations, schedules, and other documents in a timely manner for the annual accounting.
• Prepare all schedules and assemble all documents required by our CPA firm for preparation of our annual not-for-profit tax returns, and if the need should ever arise for preparation of reviewed or audited financial statements and tax audits. In addition, the controller is expected to prepare any miscellaneous tax reports, such as the New Jersey Annual Report, Census Reports, and Unclaimed Property Tax Reports, etc.
• Support the Puffin Board in the creation, documentation, implementation, administration, and maintenance of accounting and business processes, and other related policies and procedures and monitoring of reporting and tracking systems.
• Leverage strengths of, coach, supervise, and provide leadership to the Board and Puffin staff to maximize and reach optimal individual and organizational goals.
Qualifications/Education/Technical Acumen
• Minimum of five years' nonprofit accounting experience with at least two years in a leadership role
• Solid experience coordinating Accounting activities and managing reporting, budget development and analysis, accounts payable, general ledger, and payroll
• A track record in grants management as it relates to compliance and reporting requirements for grants to individuals and organizations is essential
• Exceptional attention to detail is required; keen analytic, organization and problem-solving skills which allows for strategic data interpretation
• Ability to work independently and collaboratively with others in a fast-paced environment
• Effective and polished verbal and written communication skills along with strong interpersonal skills
• Demonstrate the highest level of integrity and dependability with a solid work ethic and a solutions-oriented approach
• Possess superb organizational skills with the ability to effectively manage multiple projects and competing priorities
• Bachelor's degree in Accounting
• CPA a PLUS but not required
• Proficiency in nonprofit and fund accounting software, QuickBooks is preferred; as well as related software including Filemaker, ADP Payroll and MS Office Suite applications. Knowledge of grant software is a PLUS.
• Thorough understanding of Generally Accepted Accounting Principles
Location/Work Schedule
Puffin is open to a 4-day or 5-day work arrangement (candidate's choice) and resides in Teaneck, NJ, but will offer a hybrid work arrangement (minimum of 2 days in the office required). The candidate will be required to travel to Atlanta, GA area for initial training (2 separate 1-week trips in the first 2 months).
Compensation
Target compensation will be commensurate with experience and be based on a 4 or 5 day a week work schedule (candidate's option). For a 4-day work schedule, target base salary compensation will be $85-$95k. If the candidate prefers a 5-day work schedule, the target base salary compensation will be $105-$110k. The position also offers comprehensive benefits and a traditional IRA.
Please note for those candidates who prefer the 5-day work schedule at least 1 of the days a week will include involvement in the Foundations grant making and educational work.
In addition, The Puffin Foundation, Ltd conducts an annual performance management process. As part of the annual performance management process candidates will be eligible for a merit increase along with a potential small discretionary bonus. Merit increases and discretionary bonuses are performance-based and economic conditions will also be considered.
Application Process
Please email your resume directly to Kevin Kurtz () for consideration. Candidate qualifications will be reviewed and if selected for an interview candidates will be contacted directly by Kevin.
---
About the Position
The Operational and Administrative Associate will provide comprehensive support in the day to-day functions of the Puffin Cultural Forum, a non-profit art and cultural space, run by the Puffin Foundation in Teaneck NJ. Under the supervision of the Director of the Puffin Cultural Forum, the Operational and Administrative Associate will coordinate logistics for community programs and activities including concerts, art exhibitions, film screenings, workshops, etc. This is a full-time position, requiring some weekend and evening work. Under Covid-19 protocols, position may include remote work. Entry-level applicants are welcome to apply.
Responsibilities
• Assist and collaborate with the Director of the Puffin Cultural Forum to execute logistics for all community events. The Puffin Foundation and the Puffin Cultural Forum strictly follow Covid-19 protocols to protect office staff and public audience.
• Execute planned Puffin Cultural Forum events and programming. Position requires some physical work in preparing the gallery and stage area for events, transporting artwork, art installation, maintenance of tech equipment, etc.
• Assist Director in recruiting and managing student volunteers from local high schools, colleges, and universities. Develop programming with student groups to engage them with the activities of the Puffin Cultural Forum and the Puffin Foundation.
• Maintain and expand publicity protocol including managing social media platforms and posting on online media portals including Facebook, Instagram, Twitter, Google Ads, etc.
• Manage website updates and keeping track of measurable data for assessment and improvement.
• Provide creative and logistical support in all aspects of the Forum's gallery exhibitions including exhibition curation, event development, art transportation, and installation.
• Provide administrative and task support for the Director of the Puffin Cultural Forum.
Qualifications and Requirements
• The Puffin Cultural Forum is dedicated to promoting the arts and activism. Applicants must have a passion for and appreciation of the arts and the role they play in promoting social progress, especially in giving voice to individuals and organizations who are often excluded from mainstream opportunities due to their race, gender, or social philosophy.
• Applicant must be willing to work weekend and evening events in addition to working from the office during the week.
• Must have excellent written and verbal communications skills.
• Driver's license is required for art transportation.
• Degree in marketing, graphic design, or in the arts is preferred but not required.
• Experience with graphic and web design is preferred, not required.
• Experience with graphics programs including Adobe programs like Indesign, Photoshop, Adobe Illustrator, Premiere Pro preferred, not required. Must be willing to learn.
• Position requires engagement with the public. Hospitality and ability to positively represent the Puffin Cultural Forum and the Puffin Foundation in all aspects of the position are absolutely necessary.
• Highly developed interpersonal skills and ability to work cooperatively, constructively, and flexibly with others are requisite for this position.
• Must be fully vaccinated against Covid-19 with Centers for Disease Control (CDC) authorized vaccines.
How to Apply
Please apply by sending in a brief cover letter and resume to .
Anti-Discrimination Policy and Commitment to Diversity
The Puffin Foundation is committed to diversifying its staff and encourages individuals of all backgrounds and identities to apply for this position. We provide equal employment opportunities for all applicants and employees and prohibit discrimination with respect to the hiring or promotion of individuals, conditions of employment, disciplinary and discharge practices, or any other aspect of employment on the basis of sex, race, color, national origin or citizenship status, age, religion, sexual orientation, marital status, pregnancy and parental status, HIV status, gender identity and expression, or any other identities or any other factors which cannot lawfully be used as a basis for an employment decision.