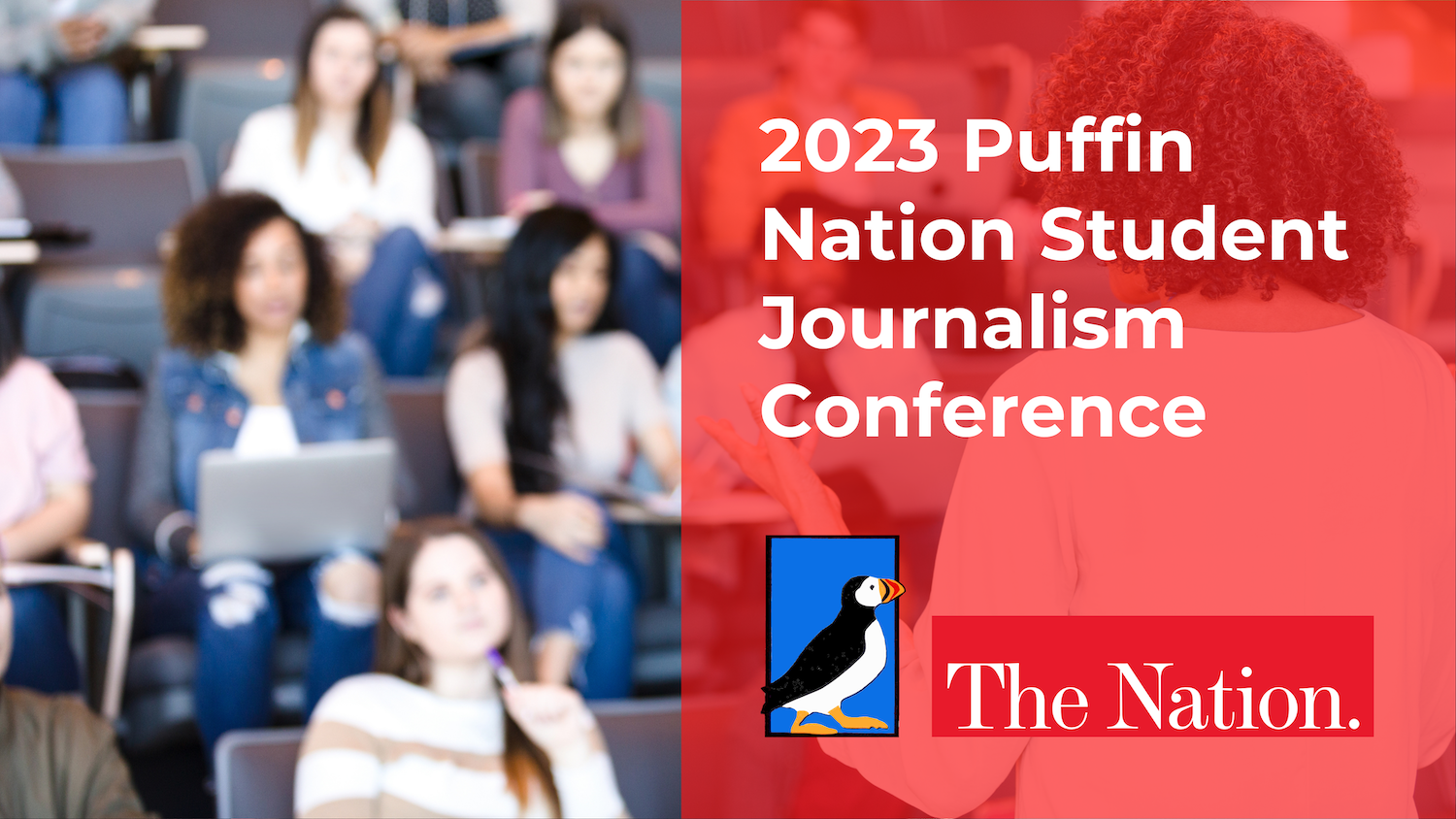 Watch the 2023 Puffin Nation Student Journalism Conference!
July 18, 2023
The Nation Fund for Independent Journalism's 2023 Puffin Nation Student Journalism Conference was a rousing success! The conference had a diverse group of close to 125 extraordinary student journalists, editors, writers, and reporters in attendance. They came from coast to coast as well as from Pakistan, India, Germany and Canada. 
The conference was an inspiring day of training, talks, seminars, interviews, breakout sessions and old-fashioned networking with workshops, discussions, seminars, video screenings, breakout sessions, networking opportunities and social activities. Puffin was proud to support and aid The Nation to make the event entirely free. Speakers this year included Katrina vanden Heuvel, Sarah Jaffe, Luis Feliz Leon, Ken Klippenstein, Elie Mystal, Alex Press, Laila Al-Arian, Sasha Abramsky, Joan Walsh, Liliana Segura and Rainesford Stauffer, a popular columnist for Teen Vogue!
Please share the conference session videos with any aspiring student journalists you know, as they provide valuable insights and inspiration for their journalistic journey!
What the students are saying
"The panels were extraordinary, featuring some of the best reporters, columnists, and essayists working today. The breakouts were insightful, with my breakout leader giving detailed and specific advice on how to survive in the journalism world. And getting to speak, connect, and share ideas with the attendees was an incredible opportunity."

Zurie Pope, Unversity of Cincinnati
"It was an honor and an edifying experience to attend the Puffin Nation Student Conference. I saw so many insightful remarks from the presenters. I feel like I'm a more mature journalist for having attended the conference. I also had a lovely time getting to know some other students in the breakout rooms and networking section. We're going to stay in touch. Thank you so much!"

Rei Wolfsohn, Hunter College
"The conference was an amazing experience, and such a great opportunity to learn from experienced journalists about their professions. I am so glad that I was able to attend!"

Connor C., Central Park High School
"The Puffin Nation Fund Virtual Student Journalism Conference was a great opportunity to learn from world class journalists and to get inspired to write more quality and thought provoking articles myself."

Isabella E., DuPont Manual High School
Watch